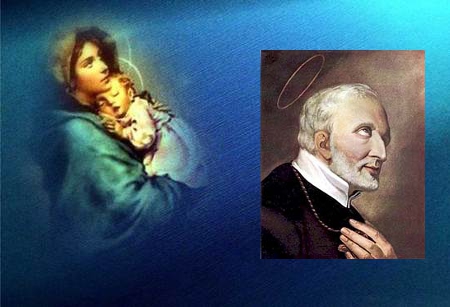 Mary knew the prophecies of her Son's suffering
Mary was familiar with the Old Testament prophecies about the Messiah, St. Alphonsus insists. So she knew all too well what lay ahead for her Son.
Compassion for the sufferings of this most beloved Son was the sword of sorrow that was to pierce the heart of the mother, as St. Simeon exactly foretold: "And a sword will pierce through your own soul" (Lk 2:35). Already the most Blessed Virgin, as St. Jerome says, was enlightened by the Sacred Scrip- tures. She knew the sufferings that the Redeemer was to endure in his life, and still more at the time of his death.
She fully understood from the prophets that he was to be betrayed by one of his disciples, as David foretold: "Even my bosom friend in whom I trusted, who ate of my bread, has lifted his heel against me" (Ps 41:9). He was to be abandoned by them: "Strike the shepherd, that the sheep may be scattered" (Zec 13:7). She knew well the contempt, the spitting, the blows, the derisions he was to suffer from the people: "I gave my body to those who struck me, and my cheeks to those who pulled out the beard; I hid not my face from shame and spitting" (Is 50:6).
She knew that he was to become the reproach of men, and the outcast of the most degraded of the people, so as to be saturated with insults and injuries: "But I am a worm, and no man; scorned by men, and despised by the people" (Ps 22:7). She knew that at the end of his life, his most sacred flesh would be torn and mangled by scourges: "But he was wounded for our transgressions; he was bruised for our iniquities" (Is 53:5). She knew that he was to be pierced by nails: "They have pierced my hands and feet" (Ps 22:16). He would be considered a villain: "He was numbered with the transgressors" (Is 53:12). And finally, hang- ing on a cross, he was to die for the salvation of men: "They [shall] look on him whom they have pierced" (Zec 12:10). —St. Alphonsus Liguori, The Glories of Mary
IN GOD'S PRESENCE, CONSIDER . . .
Do I know the Scriptures well enough to realize what challenges the future holds for me as a faithful follower of Jesus? Do I also know the scriptural promises made to me? (See Mt 5:1–12.)
CLOSING PRAYER
Father, whatever the future holds, "I know whom I have believed, and I am sure he is able to guard until that Day what has been entrusted to me" (2 Tim 1:12).
___________________________________________________________________________________________________________
Remember to subscribe to my feed so you will not miss a day! This recurring feature at The Catholic Blogger is possible through the cooperation of author Paul Thigpen and publisher Saint Benedict Press. To get your own copy of this book, click below.