Stephen Binz brings to readers an interesting new twist to contemplative Scripture study. Transformed by God's Word: Discovering the Power of Lectio and Visio Divina
 takes the Western practice of lectio divina the Eastern Orthodox use of iconography. This combination provides an amazingly complete method of scripture study in a book that will become a valuable resource for a long time.
The book begins with an introduction that explains the history and what each method consists of. Lectio Divina is the study and praying of Scripture while asking God to illumine our minds. The goal of lectio divina is to draw us into a personal relationship with God and to form us into the image of Christ. It is an ancient practice that has recently been brought back into usage in great part due to the attention of Pope Benedict XVI. As Stephen explains there are four necessary dispositions for allowing God's word to work within us. These are reverence, openheartedness, expectation and faithfulness.
After taking us through a detailed chapter on lectio divina Stephen gives readers a look into iconography and its use in the Orthodox church. Whereas Western Christianity, and in particular Saint Benedict, urged followers to listen to God's word with the ear of the heart; Eastern Christianity focused on use of the eyes of the heart and interpretation of Scripture through visual artwork. Visio divina is the practice of gazing at an image so that we are led to meditation and prayer. In short, icons communicate Christian truth in visual format.
After the reader is taken through this thorough introduction they come upon the main focus of the book…..the meditations. There are twenty individual gospel reflections in the book. These meditations follow the twenty mysteries of the rosary. Each of these meditations is broken down into what Stephen calls six movements. They are lectio (listening), visio (gazing), meditatio (reflection), oratio (prayer), contemplatio (contemplation), and opertio (witness).
Each mediation opens with
lectio
. The scripture reading and a relevant meditation are presented.
Visio
is next and an icon from the Mary of Nazareth International Center created by Kaspars and Ruta Poikans is presented as well as a meditation on the "writing" of the icon itself.
Meditatio
presents a number of questions to spark contemplation.
Oratio
gives the reader a starter prayer to begin the personal conversation with God abut what has been reflected upon.
Contemplatio
provides a  one or two sentence starter for sitting in silent reflection. Lastly
Operatio
provides some guidance on how to take what was meditated upon and turn it into action within your own life.
Stephen Binz has provided and easy, fulfilling and in-depth way to study God's word. This is a book that I feel can be used more than once. It also serves as an invaluable source for deeper meditation on the mysteries of the rosary. After working your way through twenty meditations you may set it aside for a period of time but the book is so well organized you will find yourself returning to it again. I know I will.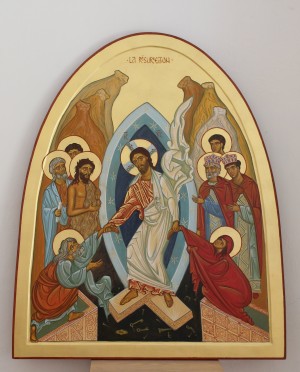 ________________________________________________________________________________