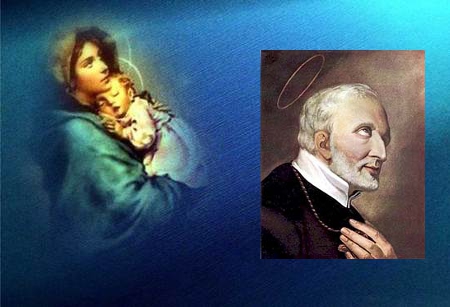 St. Francis de Sales and the Memorare
St. Alphonsus recalls how the Memorare prayer rescued St. Francis de Sales from despair.
When St. Francis de Sales was about seventeen, he was pursuing his studies in Paris. At the same time he devoted himself to spiritual exercises and to the holy love of God, in which he found the joys of paradise. Our Lord, in order to try him, and to strengthen the bands that united him to himself, allowed the Devil to persuade him that all he did was in vain, as he was already condemned in the eternal decrees of God. The darkness and spiritual dryness in which God was pleased at the same time to leave him caused the temptation to have greater power over the heart of the holy youth. Indeed, it reached such a pitch that his fears and interior desolation took away his appetite, deprived him of sleep, and made him pale and melancholy.
One evening Francis entered a church and saw a plaque hanging on the wall with the well-known prayer called the Memorare: "Remember, O most pious Vir- gin Mary, that never has it been heard of in any age, that anyone having recourse to your protection was abandoned." Falling on his knees before the altar of the Mother of God, he recited the prayer with tender fervor, renewed his vow of chastity, promised to say the Rosary every day, and then added: "My Mother, if I am so unfortunate as not to be able to love my Lord in the next world, whom I know to be so worthy of love, at least obtain that I may love him in this world as much as possible."
Having thus addressed the Blessed Virgin, he cast himself into the arms of divine mercy, and resigned himself entirely to the will of God. Scarcely had he finished his prayer when in an instant he was delivered from his temptation by his most sweet mother. He immediately regained the peace of his soul, and with it his bodily health. —St. Alphonsus Liguori, The Glories of Mary
IN GOD'S PRESENCE, CONSIDER . . .
What does it say about St. Francis de Sales that he would pray for the grace to love Jesus in this world even if, in his despair, he couldn't hope for heaven? Could I pray such a prayer?
CLOSING PRAYER
From the Memorare: Inspired by this confidence, I fly unto thee, O Virgin of virgins, my Mother; to thee do I come, before thee I stand, sinful and sorrowful. O Mother of the Word incarnate, despise not my petitions, but in thy mercy hear and answer me.
_________________________________________________________________________
Remember to subscribe to my feed so you will not miss a day! This recurring feature at The Catholic Blogger is possible through the cooperation of author Paul Thigpen and publisher Saint Benedict Press. To get your own copy of this book, click below.