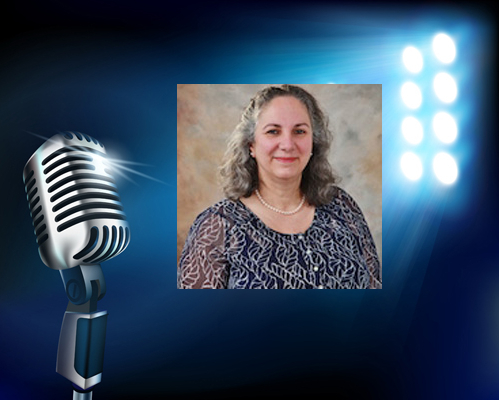 Maria Morera Johnson is a CatholicMom.com blogger and cohost of SQPN's Catholic Weekend. She is a composition and literature professor and director of English learning support at Georgia Piedmont Technical College, working with non-traditional students in innovative success initiatives. She has received a number of awards for teaching.
She speaks on behalf of and consults with several organizations, including St. Vincent de Paul (Vincentians). Johnson helped organize the Catholic New Media Conference. Johnson often presents at national education conferences to encourage women in non-traditional fields to pursue their educational goals.
Johnson is a native of Cuba. Her first book, Confessions of a Middle-Aged Cubanita, was self-published. She and her, husband, John, have three grown children and live in Conyers, Georgia.
______________________________________________________________________________
Today, Michele interviews Maria Johnson. They discuss her book My Badass Book of Saints: Courageous Women Who Showed Me How to Live
.
MICHELE: Knowing that the list of saints (courageous, badass, women) is virtually endless, how did you choose the ones for your book, or did they choose you?
MARIA JOHNSON: I love that you asked if the saints chose me because, in fact, some did! I tried to have a nice balance of well-known saints that readers would recognize such as St. Joan of Arc, and a few obscure ones such as St. Christina the Astonishing, to introduce readers to the idea that not all saints are these cookie-cutter models of virtue we see on holy cards. They were real, and often messy — like us. I started with the characteristics I discussed in the chapters, and searched for the saints who had those virtues. It was part match game and part wild goose chase, but in the end, we found each other. What I love is that I've developed a friendship with these saints, and sometimes it seems like they seek me out. I encounter them in unexpected places, and it feels like a little nod from heaven.
MICHELE: I appreciate the "Questions to Ponder" at the end of each chapter and especially the suggestions for living life more fully. If you could combine all of your badassness (wisdom, beauty, strength, joyfulness, living life fully) into one quote, part of scripture, one sentence, a motto, an image, a favorite book, etc. – what would it be?
MARIA JOHNSON: My favorite book is The Little Prince by Antoine Saint-Exupery. I've been drawn to it at different times in my life, and gleaned some wisdom from it each time. There's a well-known quote from it that has lead me to great periods of reflection: "What makes the desert beautiful, is that somewhere it hides a well."
I've interpreted that quotation a number of ways — but I always go back to the mystery of what's hidden, and the joy of its discovery. Recently, I have thought of the beautiful, sweet, almost imperceptible smile on Mary's countenance in the image of Guadalupe, and the time she must have kept silent about the well of living water within her. It's pretty mind-blowing to me. It reminds me of the exhortation in Philippians: "Finally, brothers and sisters, whatever is true, whatever is noble, whatever is right, whatever is pure, whatever is lovely, whatever is admirable–if anything is excellent or praiseworthy–think about such things."
Look at that. You got a favorite book, a quote, a part of scripture, an image — all wrapped up in one!
MICHELE: I could not put your book down, but as I reached the last chapters, I realized that I never wanted it to end! What do you believe the next chapter of your life has in store for you, in terms of being La Tremenda?
MARIA JOHNSON: Wow! Thanks for that awesome compliment! My husband and I have taken a giant leap of faith. I took an early retirement and we have moved to a seaside community to fulfill his dream of retiring to the ocean. You read about our life story and the impact of his illness in the book, so you understand why that's important to me. To us. I can't wait to sit on our porch and watch the sun come up while we drink our coffee. I'll have time to read more books, and write more books, too! Not exactly badass — but I'm feeling pretty fearless. I don't know what's next, but I am sure that Jesus has some big plans for me. I'm ready!
MICHELE: What is your "go to" prayer, devotion, or prayer practice that sustains you daily?
MARIA JOHNSON: I have a number of devotions that I try to incorporate into my daily life. I've always been fond of the rosary, and embraced it whole-heartedly when my children were in school. Some years ago I consecrated myself to Jesus through Mary by following the 33 Days to Morning Glory retreat. In the past few years I've added the Angelus, but I admit to forgetting about as often as I remember. Our new home is close to a church, and we hear the Angelus bells ring, so I'm thinking I'm going to get better at that. I also pray the Chaplet of the Divine Mercy. That devotion has brought me a great deal of consolation with a brief prayer that I say often throughout my day, "Jesus, I trust in you." It's simple. Easy. And gives me peace.
MICHELE: Time for the signature ending CBB question. This is a blog about books. What books are currently on your bookshelf to read?
MARIA JOHNSON: I was going to say I have too many books, but that's ridiculous. One can never have enough books! I'm always reading and rereading a lot of literary classics because I just retired from teaching college literature.
The last book I (re)read was Mistress Bradstreet: The Untold Story of America's First Poet by Charlotte Gordon. I ended my career on a poetry unit. It was grand!
I'm also in the very last part of Elizabeth Scalia's wonderful book, Little Sins Mean A Lot, and I'm going to go finish it right now! Highly recommended!
I'm also reading a novel by Debra Dean, The Madonna's of Leningrad. It's a story about the impact of dementia on a family, the matriarch and her daughter. The story alternates between the present day challenges of caring for an Alzheimer's patient, and the patient as a young woman saving art pieces from the Hermitage during the siege of Leningrad. I love the story, but I'm also drawn to the author's finesse in moving between the two time periods. I'm reading it as much for the entertainment as for the technical lessons in the writer's process. Nerdy? Yeah.
Finally, I have Tequila Mockingbird: Cocktails with a Literary Twist by Tim Federle on my coffee table and I peruse it every once in a while. It's a hilarious book of cocktail recipes, so that's useful (one of the saints I feature is St. Bibiana, patron of hangovers!). Although it has some classic recipes such as The Pitcher of Dorian Grey Goose, it also has recipes for non-alcoholic delights, such as Pear The Wild Things Are, which is a refreshing spin on lemonade.
If you ask me tomorrow, I'll probably have another eclectic collection of books. Thank you so much for asking these questions and giving me the opportunity to not only share a little bit about me, but also share a little part of my bookshelf!
________________________________________________________________________________