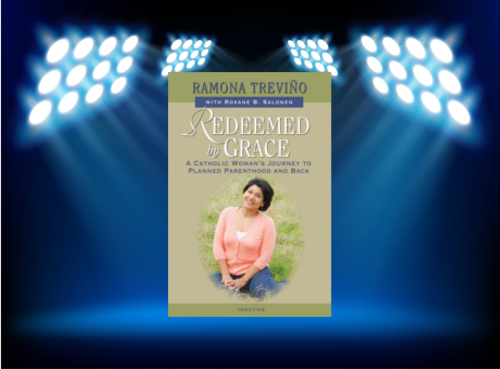 Review by Julie Abell
I picked up this book to read, Redeemed by Grace: A Catholic Woman's Journey to Planned Parenthood and Back
, because I needed to try to understand what goes through the head of someone who works at Planned Parenthood.  I needed to hear what made them decide that it was a wholesome place to work.  Ramona Trevino was just the person to enlighten me and then she answered my next question which was "What makes them leave?"
This book is actually a memoir of Ramona's life.  "Pregnant at sixteen, she dropped out of high school and entered an abusive marriage that ended in divorce.  Wanting to make a difference and to help girls in similar tough situations, she accepted a job as the manager of a Planned Parenthood facility in Sherman, Texas.  Over time, however, Ramona began to grapple with whether she was doing women more harm than good and set out on a path to seek the truth-no matter where it might lead."  So says the book jacket, and as I read Ramona's memoir I was struck by her openness and honesty.  Clearly, her experiences could have happened to any number of us and indeed do.  But, as she explains in this book, it is her faith which helped her find healing and truth.
As you will discover in this book, Ramona's heart is sweetness and light, and she truly believed she was going to help women.  She admits that when she applied for the job she was "largely ignorant about Planned Parenthood. As a young mother, I had been mainly absorbed in work and family.  Public discussions concerning abortion and the connection between Planned Parenthood and the abortion industry were simply not on my radar.  Like many, I believed that the organization's primary purpose was to help women."   The Catholic friend that helped her get the job made it a point to tell Ramona that the clinic she would work at had no connection whatsoever to abortions.  Ramona was confused that the point would be brought up because, as she admits again, she was oblivious and the pull of working with a dear friend and needing a job was her focus instead.  It didn't take long to realize, however, that even though abortions were not performed at her clinic, Ramona had to refer them and thus began the spiritual unrest and more discoveries about what purpose Planned Parenthood really fills.
Through a series of twists and turns, Ramona eventually leaves her job as a clinic manager.  I admire the courage it took for her to address that spiritual unrest, seek healing, and take definitive action.  Ramona is now a pro-woman, pro-life, and pro-family advocate.  Her story filled me with hope and reminded me that the men and women who work at Planned Parenthood are, in fact, real people with real dreams and real heartaches and we should absolutely continue to pray for their healing and the end to the contraceptive/abortion mindset.
_______________________________________________________________________________