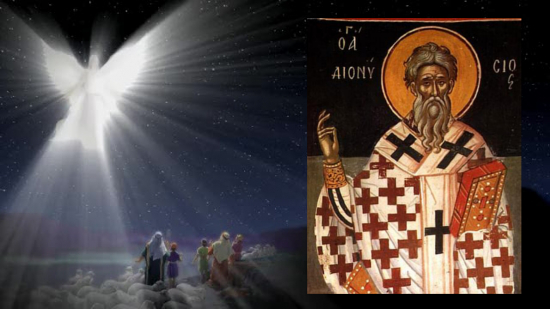 Descriptions of angels are figurative
The writer we call Dionysius  the Areopagite, beginning a work on the celestial hierarchy, takes care to remind us that the descriptions of angels in Scripture are figurative. The  Bible  uses these pictures to describe the angels' attributes  and abilities in a way our human understanding can grasp.
I think the first thing we need to do is to set forth what we think is the purpose of every hierarchy, and what benefit each one confers upon its followers; and next to celebrate the heavenly hierarchies according to their revelation in Scripture; then following that Scripture, to say in what sacred forms the holy writings of the Scriptures depict the celestial orders, and to what sort of simplicity we must be carried through the representations.
We begin this way so that we may not, like the uneducated, irreverently think that the heavenly and Godlike minds are certain many-footed and many-faced creatures, or shaped in the animal form of oxen, or the savage form of lions, and fashioned like the hooked beaks of eagles, or the feathery down of birds—or imagine that there are certain wheels of fire above the heaven, or material thrones upon which the Godhead may recline, or certain many-colored horses, and spear- bearing leaders of the host, and whatever else was transmitted by the Oracles to us under multifarious symbols of sacred imagery.
No, the Word of God artlessly makes use of poetic representations of sacred things when speaking of the shapeless minds, out of regard to our intelligence, so to speak, using a mode of education proper and natural to it, and molding the inspired writings for it. –Dionysius the Areopagite, The Celestial Hierarchy, 2.1
IN GOD'S PRESENCE, CONSIDER . . .
When I find parts of the Bible that are difficult to understand—like the strange and wonderful appearances of the heavenly creatures—where do I go for help? Where should I go?
CLOSING PRAYER
Lord, send your angels to enlighten me whenever I hear your holy oracles.
______________________________________________________________________________
Remember to subscribe to my feed so you will not miss a day! This recurring feature at The Catholic Blogger is possible through the cooperation of author Mike Aquilina and publisher Saint Benedict Press. To get your own copy of this book, click below.