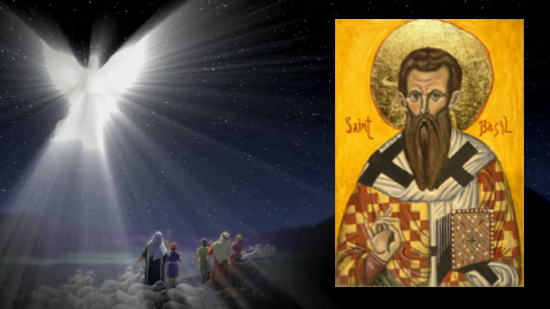 Angels are holy because of the Spirit
Though Scripture does not explicitly  mention the creation of  angels, we know from our own case (says  St. Basil)  that their holiness comes from the Holy Spirit, not from their own nature.
The pure, intelligent powers that live above this world are called holy because they get their holiness from the grace given by the Holy Spirit. Thus there is no mention of the creation of the heavenly powers, because the historian of creation has revealed to us only the creation of things our senses can perceive.
But you have the power to form an analogy of things you cannot see from the things you can see. Glorify the Maker who made all things, visible and invis- ible—Principalities, Powers, Authorities, Thrones, and Dominions, and all other rational beings we cannot name.
And when you think of creation, I beg you to think first of the original cause of all things that are made, the Father; of the creative cause, the Son; and of the perfecting cause, the Spirit. The ministering spirits exist by the will of the Father, are brought into being by the work of the Son, and are perfected by the presence of the Spirit.
–St. Basil the Great,  
On the Holy Spirit
, 38
IN GOD'S PRESENCE, CONSIDER . . .
Even angels are holy only because of the Spirit. Do I make enough use of the sacraments Christ gave me to make me holy?
CLOSING PRAYER
Come, Holy Spirit. Fill the hearts of your faithful as you fill the being of the angels in Heaven.
________________________________________________________________________________
Remember to subscribe to my feed so you will not miss a day! This recurring feature at The Catholic Blogger is possible through the cooperation of author Mike Aquilina and publisher Saint Benedict Press. To get your own copy of this book, click below.