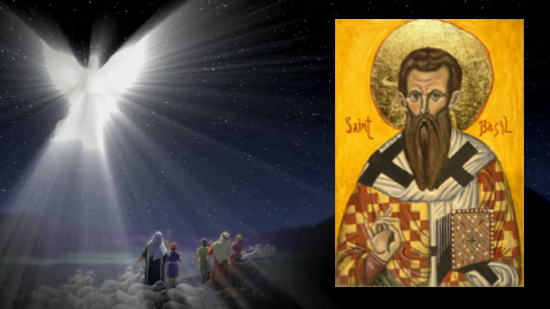 Angels are limited; the Spirit is not
Against those who would relegate the Holy Spirit to inferior status, St. Basil the Great points out that Scripture consistently treats the angels as limited be– ings: here but not there, in one place and not another. But the Spirit, as God, is everywhere at once.
Of the rest of the powers of Heaven, each is believed to be in a limited place. The angel who stood by Cornelius (Acts 10:3) was not with Philip at exactly the same time (Acts 8:26); the angel who spoke with Zechariah from the altar (Luke 1:11) was not simultaneously up in Heaven at his post.
But the Spirit is believed to have been working in Habakkuk and Daniel at the same time in Babylon, and to have been at the prison with Jeremiah, and with Ezekiel by the Chebar.
For "the Spirit of the Lord has filled the world" (Wis. 1:7). "Whither shall I go from your Spirit? Or whither shall I flee from your presence?" (Ps. 139:7). –St. Basil the Great,  On the Holy Spirit, 23
IN GOD'S PRESENCE, CONSIDER . . .
A powerful guardian angel is with me all the time, and the power of the Spirit is infinite. Am I mindful of their presence every day?
CLOSING PRAYER
Have mercy on me according to your great compassion, Lord. Send your angels to protect me, and send forth on me your all-holy Spirit.
__________________________________________________________________________________________

Remember to subscribe to my feed so you will not miss a day! This recurring feature at The Catholic Blogger is possible through the cooperation of author Mike Aquilina and publisher Saint Benedict Press. To get your own copy of this book, click below.