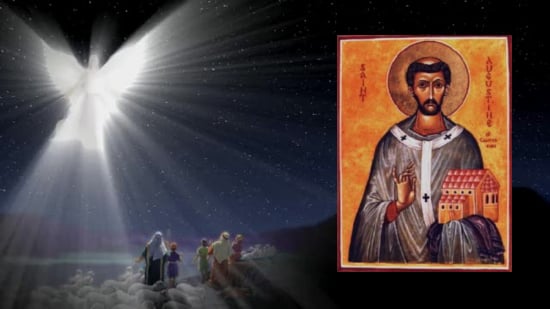 The  fall of  the angels, says  St. Augustine, shows  us how completely every spiritual being—human or angelic—depends on the illumination that comes from God alone.
The angels fell. The human soul fell. And thus they show us the abyss in that dark deep that would have been ready for the whole spiritual creation, if you had not said from the beginning, "Let there be light," and there had not been light, and every obedient intelligence in your celestial city had not clung to you and rested in your Spirit, which is unchangeably hovering over everything changeable. Otherwise, even the Heaven of heavens itself would have been a dark chasm, whereas now it is light in the Lord.
The spirits who fell away discovered their own darkness when they were stripped of the garments of your light. But even in their wretched restlessness, you clearly show us how noble you have made the rational creature, to which nothing less than you—not even itself—is enough to give a happy rest.
For you, our God, will enlighten our darkness. Our garments of light come from you, and then our darkness will be as noon. –St. Augustine, Confessions, 13.8
IN GOD'S PRESENCE, CONSIDER . . .
When I feel restless or dissatisfied, is my first instinct to turn to God as the angels of Heaven do? Or is it to try to find some way of satisfying myself, as Satan and his angels did?
CLOSING PRAYER
Lord, I depend on your light; let me always be drawn to it, along with the obedient angels, and never seek rest in anything else.
___________________________________________________________________________________________________________
Remember to subscribe to my feed so you will not miss a day! This recurring feature at The Catholic Blogger is possible through the cooperation of author Mike Aquilina and publisher Saint Benedict Press. To get your own copy of this book, click below.