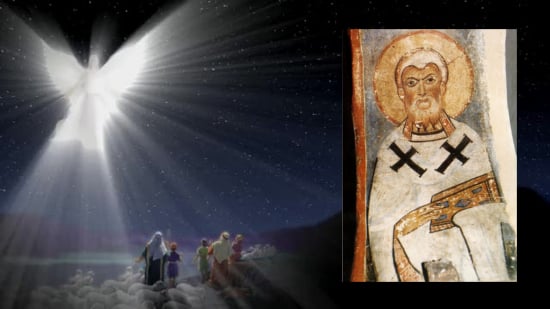 What does it mean when Luke says that the child Jesus "increased in wisdom and stature"? St. Athanasius says that the Word of God could not grow any more perfect; but the human body grew, and as Jesus grew older the people around him understood his wisdom  more and more.
"And Jesus increased in wisdom and in stature, and in favor with God and man" (Luke 2:52).
If he "increases" in being the Word, what more can he become than Word and Wisdom and Son and God's power? The Word is all these things. Anyone who shares even one ray of all this light, so to speak, becomes all-perfect among mortals, and equal to angels.
Angels, and Archangels, and Dominions, and all the Powers, and Thrones, share in the Word, and by sharing in the Word always see the face of the Father. He supplies perfection to others! How can he "increase" more than they do? An- gels even ministered at his Nativity—and this passage from Luke comes later than that.
How could anyone even think it? How could Wisdom advance in wisdom?
No, he did not "increase" as the Word, but he did as a man, since it is human to increase. Thus the Evangelist, choosing his words carefully, mentions that he increased "in stature." As Word and God he is not measured in stature: stature belongs to bodies. So the increase is of the body; and when it increased, the mani- festation of the Godhead also increased, to those who saw it.
–St. Athanasius, Discourse 3 Against the Arians
IN GOD'S PRESENCE, CONSIDER . . .
If I spent some time meditating on the human growth of Jesus, might that help me see the wisdom of the Word, without whom not even the angels can see the face of the Father?
CLOSING PRAYER
Lord Jesus Christ, let me share one ray of your light, so that I may at the last become equal to the angels.
___________________________________________________________________________________________
Remember to subscribe to my feed so you will not miss a day! This recurring feature at The Catholic Blogger is possible through the cooperation of author Mike Aquilina and publisher Saint Benedict Press. To get your own copy of this book, click below.