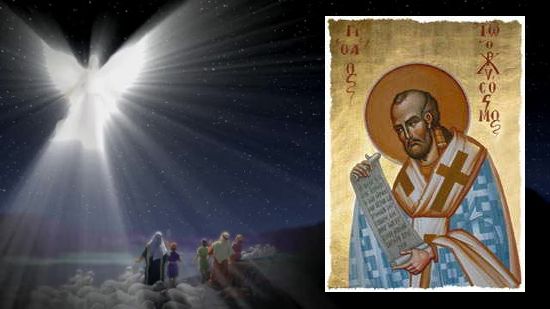 Do you know your own nature? St. John Chrysostom wonders whether you do. If you did, he says, you'd know that you could be an angel—or a beast.
Who, you will say, is ignorant of his own nature?
Many are—perhaps all but a few. If you like, I will show you the proof of it.
Tell me, what is man? If you were asked, could you answer these questions right away: In what part is he different from the animals? In what is he like the inhabitants of Heaven? What can be made of man?
For as in the case of any other material, so in this case: man is the material, but from this material can be made either an angel or a beast. Doesn't that sound strange to you? Yet you have often heard it in the Scriptures. For of certain human beings it was said, "He is the angel of the Lord," and "men should seek instruction from his mouth," and again, "I send my angel to prepare the way before me" (Mal. 3:1)—but then of some, "You brood of vipers!" (Matt. 12:34).
So, then, it all depends on the use. –St. John Chrysostom, Homily 32 on Acts
IN GOD'S PRESENCE, CONSIDER . . .
Am I usually more like an angel or a beast?
CLOSING PRAYER
Holy Guardian Angel, turn my thoughts away from base desires and toward heavenly things, so that I may be, according to my capacity, an angel of the Lord.
____________________________________________________________________________________________
Remember to subscribe to my feed so you will not miss a day! This recurring feature at The Catholic Blogger is possible through the cooperation of author Mike Aquilina and publisher Saint Benedict Press. To get your own copy of this book, click below.