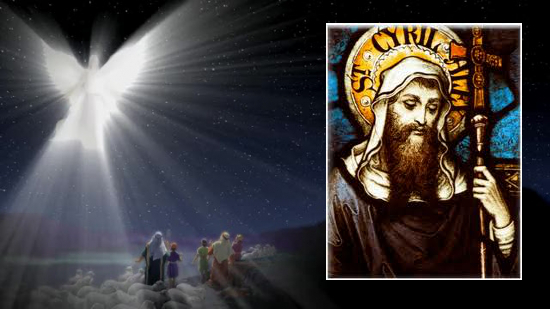 In the Our Father, we ask that God's will be done on Earth as it is in Heaven. What does that mean? We're asking, St. Cyril of Alexandria explains, for the power to live lives like the angels in Heaven, who always do God's will.
"Your will be done on Earth as it is in Heaven."
Let us examine this part of the prayer, for it will be very profitable for the salvation of our souls. Why did he command the saints to say to God the Father in Heaven, "Your will be done on earth as it is in Heaven"?
This petition is worthy of the saints, and full of praise. Asking that the good- will of God may prevail on earth—what else is it but to ask that all humanity may lead praiseworthy and elect lives, and practice and know all virtue? We say that the holy angels live in glory in Heaven this way: for it is written, "Bless the Lord, all his hosts, his ministers that do his will!" (Ps. 103:21). For by clinging to the will of their Lord, and fulfilling that righteousness which transcends human things, they pre- serve their high place, whereas those who acted otherwise fell from that position.
But to summarize and put together briefly the meaning of the words, we ask that power may be given to those who live on earth to do the will of God, and imitate the conduct of the holy angels in Heaven.
Let us see, therefore, as well as we can, how the powers above and the ranks of the holy angels successfully perform their duty. How do they honor God? Is it by sacrifices of blood? Is it by perfume and frankincense, as indeed the Israel after the flesh did? No, I think it would be completely unbelievable either to think or to say that. Instead, it would be true to say that they perform a spiritual and not a material service, always crowning the Creator of all with lauds and praises, and fulfilling that righteousness which is suitable to holy spirits. –Cyril of Alexandria, Commentary on Luke, Sermon 74
IN GOD'S PRESENCE, CONSIDER . . .
Is my commonwealth in Heaven with the angels now? Or am I still more a citizen of Earth than of Heaven?
CLOSING PRAYER
Lord, give peace to my soul, and deem me worthy  to live with the angels in your heavenly kingdom.
___________________________________________________________________________________________
Remember to subscribe to my feed so you will not miss a day! This recurring feature at The Catholic Blogger is possible through the cooperation of author Mike Aquilina and publisher Saint Benedict Press. To get your own copy of this book, click below.