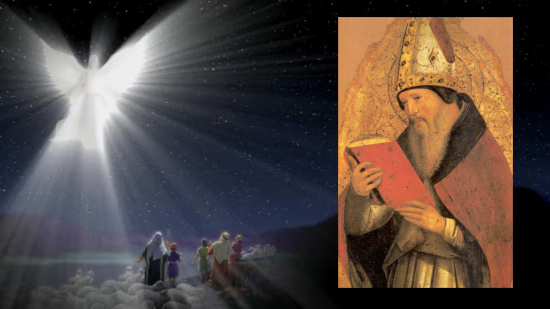 What does it mean when we pray, "Thy  will be done, on Earth as it is in Heaven"? It means that we should be as ready to do God's will as the angels are, says St. Augustine.
In the third petition we say, "Thy will be done, on earth as it is in Heaven."
What does this mean? It means, "As the angels serve you in Heaven, let us serve you that way on Earth."
For his holy angels obey him. They do not offend him. They do his commands because they love him. This is what we pray for, then: that we may also do God's commands in love.
We can also understand these words another way. "Thy will be done, on Earth as it is in Heaven." Heaven is the soul; Earth is the body. Then what does it mean to say, "Thy will be done, on Earth as it is in Heaven?" It means, "As we hear your teaching, let our flesh consent to us." If flesh and spirit are fighting, we will not be able to fulfill God's commands. –St. Augustine, Sermon 9 on the New Testament, 5
IN GOD'S PRESENCE, CONSIDER . . .
Am I ready to take God's assignment and do his will as the angels do? What is God asking me to do right now that I'm avoiding doing?
CLOSING PRAYER
My Guardian Angel, teach me to love, pray, and fight the good fight on Earth, so that I may faithfully reflect your life of service in Heaven.
___________________________________________________________________________________________
Remember to subscribe to my feed so you will not miss a day! This recurring feature at The Catholic Blogger is possible through the cooperation of author Mike Aquilina and publisher Saint Benedict Press. To get your own copy of this book, click below.