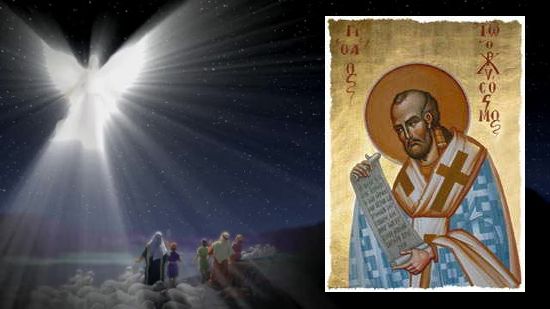 Fasting, says St. John Chrysostom, is an extraordinarily powerful thing. It makes us mortals into angels, and it fights the demonic powers. But more important even than fasting is praying—and even if you're too weak to fast, you can still pray.
Fasting brings considerable power. It trains us in strictness, and makes a mortal into an angel, and fights against the demons. But it doesn't do these things by itself. Prayer is needed too—and prayer must come first.
Why did Christ go up on the mountain? To teach us that loneliness and solitude are good when we pray to God. This is why you see him going away into the wilderness all the time, often spending the whole night there in prayer. He's teaching us that, when we pray, we should look for the kind of quiet you find at that time in that place. The wilderness is the mother of quiet. It is a calm place, a harbor, that delivers us from all storms.
Blessings come from both fasting and praying. If you're praying the way you should, you don't have many needs; and if you don't have many needs, you can't be covetous; and if you're not covetous, you're more likely to give alms. If you fast, you're light and winged; you pray alertly, and put down your wicked lusts, and reconcile yourself to God, and humble your soul when you're lifted up. This is why even the apostles were almost always fasting.
If you pray and fast, you have double wings. You're lighter than the wind itself. And even if your body is too weak to fast continually, it's still not too weak to pray. –St. John Chrysostom, Homily on St. Matthew 41, 1.57
IN GOD'S PRESENCE, CONSIDER . . .
Do I look at prayer as the angels do—as my sustenance, my limbs, my life? Is there a time and place where I can pray without distractions? Do I make use of it every day?
CLOSING PRAYER
Lord, grant me a time when I can be silent in the presence of your angels, and meditate on nothing earthly, but only on you.
---
Remember to subscribe to my feed so you will not miss a day! This recurring feature at The Catholic Blogger is possible through the cooperation of author Mike Aquilina and publisher Saint Benedict Press. To get your own copy of this book, click below.