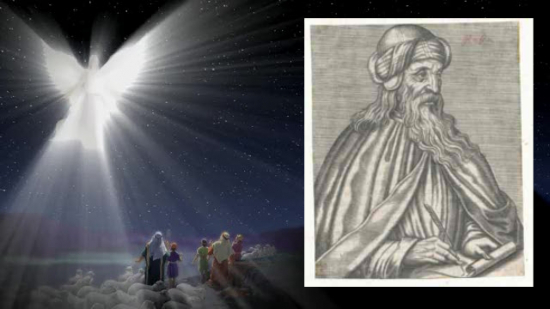 In his commentary on the Apostles'  Creed, Rufinus of Aquileia explains what Christ means when he says the resurrected will be like angels in Heaven. We will live with the angels then, but only if  we live like angels here on earth— which we can do with the sanctification of the Holy Spirit.
"For when they rise from the dead, they neither marry nor are given in marriage, but are like angels in Heaven" (Mark 12:25).
This means that the power of the resurrection confers on us an angelic state. Whoever has risen from the earth will not live again on the earth with the brute animals but with angels in Heaven. But that will only happen to the ones whose purer life has fitted them for that state—meaning those who right now keep the flesh of their soul in chastity, and have brought it into subjection to the Holy Spirit, and thus with every stain of sins done away and changed into spiritual glory by the virtue of sanctification, have been counted worthy to have it admitted into the society of angels. –Rufinus of Aquileia, Commentary on the Apostles' Creed, 41
IN GOD'S PRESENCE, CONSIDER . . .
Have I put "the flesh of my soul" under the guidance of the holy angels? How would I do that? Have I made use of the sacraments of the Church—such as penance— that Christ gave us for our sanctification?
CLOSING PRAYER
Lord, sanctify my soul, and body, and spirit; and turn my thoughts to holiness, that with the holy angels I may bring you the sacrifice of praise.
---
Remember to subscribe to my feed so you will not miss a day! This recurring feature at The Catholic Blogger is possible through the cooperation of author Mike Aquilina and publisher Saint Benedict Press. To get your own copy of this book, click below.