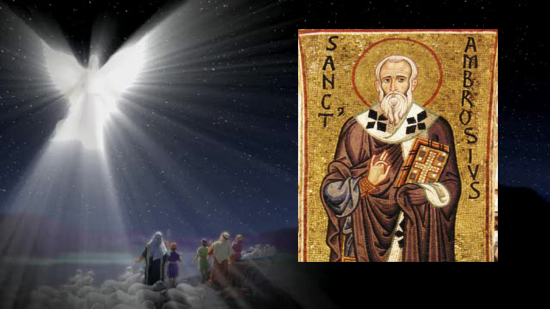 St. Ambrose recommends the life of a much-respected monk as an example to us all. To spend your days in praising God and celebrating the Lord with hymns— this is the way the angels live, he says, and you can do it too.
But now I think we have said enough of the teacher. Let us now follow up the lives of his disciples, who have given themselves to praise the divine Name, and celebrate it with hymns night and day. For this is the service of angels, always to be praising God, and with frequent prayers to appease and implore the Lord. They give themselves to reading, and occupy their minds with continual labors. They keep away from all female society, and they protect each other.
What a life this is! There's nothing in it you need to fear, but much for you to imitate! The pain of fasting is repaid by tranquility of mind, eased by familiarity, made bearable by rest, or beguiled by occupation. Worldly cares don't burden this life, and outward troubles don't absorb it, nor do the distractions of the city cause it any trouble. –St. Ambrose, Letter 63, 82
IN GOD'S PRESENCE, CONSIDER . . .
Worldly responsibilities keep most of us from living a monastic life. But even in the world, where can I find time to praise God along with the angels? Can I do it privately when no one needs me at work, or on the subway, or driving in traffic?
CLOSING PRAYER
Lord, send your angels to protect all who are passing their lives in virginity, and celibacy.
---
Remember to subscribe to my feed so you will not miss a day! This recurring feature at The Catholic Blogger is possible through the cooperation of author Mike Aquilina and publisher Saint Benedict Press. To get your own copy of this book, click below.