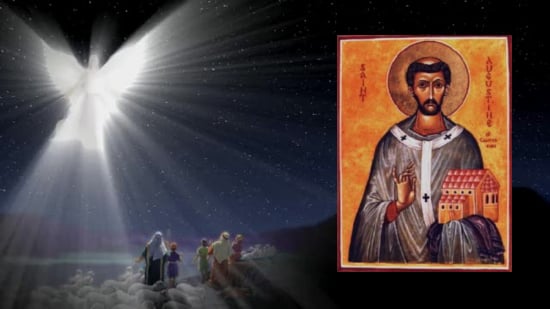 Interpreting Psalm 8, St. Augustine suggests that the "sheep  and oxen" put under Christ are human beings and angels—angels  being called oxen because of their incessant work in spreading the word of God.
"You have put all things under his feet," he says (Ps. 8:6). And when he writes to the Hebrews he uses this very testimony from this Psalm, when he wants them to understand that all things are put under our Lord Jesus Christ in such a way that nothing is left out (Heb. 2:8).
And yet he does not seem to be adding anything remarkable when he says, "all sheep and oxen, and also the beasts of the field, the birds of the air, and the fish of the sea, whatever passes along the paths of the sea" (Ps. 8:7). For, leaving the heav- enly excellencies and powers, and all the hosts of angels, leaving even man himself, he seems to have put under him the beasts merely—unless by sheep and oxen we un- derstand holy souls, either yielding the fruit of innocence, or working that the earth may bear fruit, that is, that earthly men may be regenerated into spiritual richness.
By these holy souls then we ought to understand not those of men only, but of all angels too.
But how can we prove that sheep might mean not just human beings but the blessed spirits of the angelical creatures on high? Might we do it from the Lord's saying that he had left ninety-nine sheep in the mountains—that is, in the higher regions—and had come down for one? For if we take the one lost sheep to be the human soul in Adam, the ninety-nine left in the mountains must mean angelic spirits, not human. As far as the oxen are concerned: human beings are called oxen only because, by preaching the gospel of the word of God, they imitate an- gels—as where it is said, "You shall not muzzle an ox when it treads out the grain" (Deut. 25:4). It is very easy to understand the angels themselves, the messengers of truth, to be oxen, when Evangelists, sharing their title, are called oxen. –St. Augustine, Exposition on Psalm 8, 12
IN GOD'S PRESENCE, CONSIDER . . .
How could I make a better contribution if—like the angels—I imitated the ox, which just keeps treading out the grain?
CLOSING PRAYER
Lord, grant me the zeal and earnestness to labor as the angels do, according to your will.
---
Remember to subscribe to my feed so you will not miss a day! This recurring feature at The Catholic Blogger is possible through the cooperation of author Mike Aquilina and publisher Saint Benedict Press. To get your own copy of this book, click below.