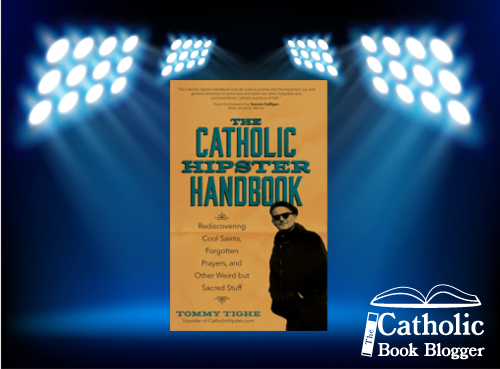 Review by Katie Zumbrum
Be careful what you tweet about on Twitter.  A simple joke on Twitter can become a book.  That is exactly how this book came to life.
The Catholic Hipster's Handbook by Tommy Tighe is a delightful, humorous book that is sure to reach everyone at some level.  It reminds me of the Chicken Soup for the Soul series with themes and anecdotes by different authors.  There are many things I could say about this "handbook" but two things stand out to me.  In each anecdote there is a "Cool Saint" and activity section.
The book starts off with a very typical – perhaps even stereotypical – hipster fashion:  beards and sandals.  Admittedly, the most recognizable sandal-wearing Catholics are the Discalced Carmelites founded by St. Teresa of Avila of Interior Castle fame.
Maybe you are not really into hipster fashion, but you care about the environment.  I learned that going to the farmer's market can be a good experience because it gets us in tune with the farmers or even helping our local economy.  This particular story challenges you to go to the market and buy a cup of coffee from a non-chain coffee shop (or at least free trade coffee).  Need to unwind and be in tune with nature?  Take a tip from St. Pope John Paul II:  take a hike with some friends and a have a priest celebrate Mass.
The Latin Mass has come back into popularity the past couple years thanks to Pope Emeritus Benedict XVI.  While I have never been to one, I often wonder about it since it was the Mass known to Saints Therese and Bernadette – well, every saint born before Vatican II, actually.
Perhaps one of the best things that stood out to me is the wealth of Catholic media.  Yes, there is Fulton Sheen and Mother Angelica, EWTN, etc. but there is so much more.  There are many Catholic blogs, Catholic Twitter (yay @Pontifex), Catholic YouTube (where my Catholic social media journey started) , even Catholic Pinterest (great for ideas for religious education or celebrating holidays).  Let's not forget "there's an app for that":  rosary apps, Confession apps (which do NOT take the place of Confession), even Liturgy of the Hours apps.  There is probably even an Adoration app out there somewhere.
If you are looking for a way to bring life to your spiritual life that is fun, humorous, and completely relateable, Catholic Hipster is for you.  There is so much waiting for the audience to discover.
To learn more about The Catholic Hipster Handbook list to Off the Shelf Episode 061.
---