By Joshua Speight, CBF Missional Congregations Manager
Americans work a lot. We spend nearly half our waking hours—an average of more than 48 hours each week—at our jobs. We fit everything else we do—going to the doctor, mowing the lawn, playing with our children, brushing our teeth, watching TV, eating, bathing, worshiping—into the other half of our awake time. What is all of this work doing to us? Are we any happier or more fulfilled? Do all these hours at our jobs improve our lives or the lives of those people we love and cherish?
ChurchWorks 2017, organized by the Cooperative Baptist Fellowship for all practitioners of Christian education and spiritual formation in the congregational setting, has asked Dr. Matt Bloom to lead ministers for a three-day event in Jacksonville, Fla. Dr. Bloom leads the Wellbeing at Work program at the University of Notre Dame in which he and his team study how to encourage flourishing among the helping and caring professions—including ministers.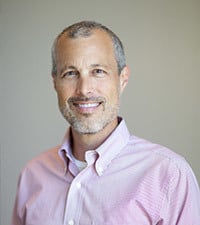 Dr. Bloom and his team believe that work can be engaging and impactful. Their research surfaces from a multidimensional understanding of the conditions that foster, or impede, positive work experiences, and the ability to be content and to flourish—both in the short term and over our lifetimes.
Below is a recent conversation I had with Dr. Bloom to discuss his preparation for ChurchWorks 2017 and to learn more about his research at Notre Dame. You can learn more about and register for ChurchWorks 2017 here.
What is important about wellbeing at work and why does it matter?
In the 1960s, Studs Terkel interviewed more than 100 people for his famous book, Working: People Talk About What They Do All day and How They Feel About What They Do. Terkel found that most viewed their jobs as negative, life-depleting experiences. He did find "the happy few" who find "meaning…well over and beyond the reward of a paycheck," but he concluded that inherent in most of the stories he hears "there dangles the impertinent question: Ought there not be an increment, earned though not yet received, from one's daily work – an acknowledgement of man's being?" Terkel quoted Nora Watson, an entry-level administrative employee, to summarize the hopes and dreams of the people he studied: "Most of us…have jobs that are too small for our spirit."
Unfortunately, things may be getting worse. I am an organizational psychologist and I study how people experience their work. When my research team and I ask people about their jobs, especially whether they are happy and fulfilled, we find that most are not. Indeed, surveys show that most people are very unsatisfied. The deeper message of these surveys is that too many people feel like insignificant cogs in huge and impersonal machines.
What prompted your interest in this research area of wellbeing at work?
My interest in work is more than academic; it is also personal. I have experienced a deep desire to put my spirit into my work only to find myself in jobs that would not allow it. During my undergraduate years, I dreamed of becoming a professor since a great uncle I admired was a professor of education; but I thought I lacked what it took. Instead, I completed a master's degree, hoping a career in business was the right path for me.
My first job was at a prestigious consulting firm. It was the kind of firm of whose name I was proud, even a bit gleeful, to drop among my family and friends. I thought it was the beginning of a meteoric rise as a professional, a career in which I would achieve prestige and earn a lot of money. We were "strategy consultants," which was just a euphemism for helping organizations fix their supposedly unmotivated, free-riding employees—or at least that was how the senior leaders of these organizations characterized their workers.
Because I occupied the lowest rung on the consultancy ladder, I was sent into the field to interview employees. What I found surprised me. I found that most people wanted to work hard. Few were happy loafing around. Most relished the great feelings they had at the end of a productive day. They wanted a job they cared about—one they could do well and feel proud of; but few felt inspired by making more widgets or generating more profits. They wanted to feel valued as people. I came to the conclusion that sometimes employees were simply not in the right job; but most often the biggest problem was they were in an environment which caused them to absent their spirits from their work.
I began to realize that my own experiences as a consultant mirrored the stories of spiritless work I was hearing in my interviews. I really enjoyed conducting the interviews and learning how people thought about their jobs; but I found the rest of my consulting experiences stressful and meaningless. We seemed to care mostly about being able to charge all of our time to clients and we seemed to care very little about really helping employees or organizations.
So I quit. I thought again about pursuing a Ph.D., but the requirements seemed too daunting so I got a job at a financial services firm. What I said I wanted was "a new challenge," but what I was really searching for was meaningful work. I joined a department that focused on financial planning for high net-worth clients. I soon discovered that job was no better than consulting. I really enjoyed some of my colleagues. Several were people I respected and admired a great deal and they seemed energized and inspired by what we were doing. I became curious about this difference—why were they so fulfilled while I was so frustrated?
After a few years, I finally decided to follow my dream to become a professor. My main motivation was that I did not want to look back on my life wishing I had at least tried to find meaningful work. I also wanted to understand what kind of jobs would be big enough for the human spirit. I finished my Ph.D. and, for the past 20 years, I have studied what work is like when people find it to be meaningful and life-enriching, rather than pointless and life-depleting. More recently, I formed a team of researchers to explore work-at-its-best and work-at-its-worst experiences.
Ministers often refer to their work as a calling. What do you say about vocation as a call?
A calling is meaningful because it connects a person to a virtuous ideal—something bigger and more important than just personal success. Through a calling, a person is able to express his or her truest and most authentic self in and through their work.
The idea that work can be a life calling has deep roots in Western culture. In the Middle Ages, the term "vocation" described a divine calling to consecrated work—work done by pastors and priests. The 16th-century iconoclast Martin Luther offered a new view. He wanted to affirm the life and labor of all people; so he made the bold claim that everyone has a calling. Luther believed that any job or occupation could be a calling when it was oriented toward something beyond the individual, some aspiration or ideal that seeks the common good. His "vision" created "a profound spiritual leveling—which [he] developed through the category of vocation…[a] call to serve God and one's fellow human beings in and through one's station in life." This meant that ordinary occupations—the work of butchers, bakers and candlestick makers—could also be callings.
Another leader of early Protestantism, John Calvin, similarly affirmed the connection between callings and work. But Calvin enlarged Luther's initial idea in at least two important ways. First, for Calvin "…the whole tenor of callings was much more aggressive and busy. His readers and hearers were to work, to perform, to develop, to progress, to change, to choose, to be active and to overcome until the day of their death or the return of their Lord." Calvin believed that a calling is not something we do for our own benefit, but is our moral duty to others, to our communities and to God.
Second, Calvin asserted that callings arose from a fit between our unique, God-given "gifts" and our work. Luther had taught that we were, in effect, born into our callings by virtue of our socioeconomic position. Calvin disagreed: He argued that we were created for our calling by virtue of our unique talents, abilities, and aptitudes.
The great sociologist Max Weber recognized that by the early 20th century, the idea of callings was becoming disconnected from its religious roots. Once capitalism had emerged, religious values and the idea of callings were no longer needed to justify labor and profits. He observed that "in the United States, the pursuit of wealth, stripped of its religious and ethical meaning, tends to become associated with purely mundane passions, which often actually give it the character of sport."[8]
Whether you understand your calling in religious or secular terms, the challenging part has always been how to find it.
What excites you about your research at Notre Dame?
The opportunity to do research that can be turned into useful practice. My team and I are passionate about helping pastors and other helping/caring professionals flourish in their work. Our goal is to conduct research that will lead to insights that will help pastors and denominations foster high levels of wellbeing.
What are some of the challenges you have encountered in your research?
Congregations of local churches and denominational leaders. Local churches don't seem to understand that the wellbeing of pastors is their responsibility as well as the pastor's. Local churches seem to live in a fictional world where pastors meet all their needs, but have no needs of their own. Denominations have entrenched cultures and practices, some of which are detrimental to clergy wellbeing. Getting leaders to see the need for change and then to lead that change is daunting.
Why research flourishing in ministry?
Because ministers are doing some of the most important work in the world, and it is among the most difficult and challenging kinds of work. Flourishing churches are critically important for the wellbeing of the world, and flourishing pastors are critically important for flourishing churches. Add to that the fact that my wife was a pastor, but the challenges of ministry life caused her to step aside from active ministry.
What are you currently reading or watching that is unrelated to your work?
I read a lot and usually have several books going. Right now, I'm reading "The Citadel" by Antoine de Saint-Exupery, "Thomas Jefferson" by Jon Meacham and "Love in the Time of Cholera" by Gabriel Garcia Marquez. I'm also an avid baseball fan. Go Cubs!
Dr. Matt Bloom is associate professor in the Mendoza College of Business at the University of Notre Dame. He is the keynote speaker for ChurchWorks 2017. Learn more about ChurchWorks and register at www.cbf.net/churchworks.