By Rev. Martha Kate Hall
One of my favorite spots in the house is the kitchen table in front of a large bay window that looks out onto the small flower bed next to our patio. This small flower bed was full of wonderful plants when we moved into the house just over two years ago and I have done my best to help this little garden patch remain alive.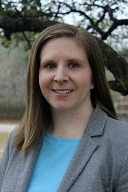 While I certainly do not claim to be a gardener, I have learned a few tips from my mom as I'm trying to take better care of the flowers and plants in my own yard. This year, my mom had some pansies left over after planting them in her own yard so she brought a few to plant in this small garden patch. Pansies are a type of plant that requires the process of "deadheading," which is the removal of faded or dead flowers.
To deadhead pansies you simply pinch and pull off the dead blooms, but for some plants the process of deadheading is even better achieved by pruning back the plant entirely. This process can be tedious and time-consuming but the end result is a healthier plant. In fact, deadheading can help the plant use its resources to produce larger and more numerous blooms later in the growing season. This is not a task which can be completed in just one day, but must happen continuously.
I see the process of deadheading plants as a wonderful analogy for changes that are sometimes required within the church. We live in a time where the culture around us is rapidly changing and we must be ever-attentive to the fading and dying blooms within ministry life. There are times at which certain programs have begun to fade or specific event and continuously declined in attendance.
When I was serving as a children's minister I heard rumors of a church who decided to cancel Vacation Bible School (VBS). Initially I was shocked. To me, VBS was one of those events that every church offers. I couldn't even imagine a church with a full-time paid children's minister not having VBS, but the truth is, it was what the church needed. They were struggling to find volunteers, attendance had been declining for several years and the time was right to make a change. The church made the decision that was right for them and they haven't looked back. They now have a more thriving summer Wednesday night program, attendance is up and volunteers are plentiful. I'm certainly not saying there is no need for VBS, but perhaps for some churches, the more traditional weekday morning program is beginning to diminish. There are certainly church contexts in which this tradition is flourishing, but for some, perhaps the "traditional VBS" needs to be removed to make way for something new.
While changes that are made can sometimes seem disheartening, the process allows for new and exciting possibilities for the future.
In ministry, we are constantly dreaming up new ideas and adding new events and programs to our calendars. We cannot keep constantly adding things to our plates or to-do lists without taking something away. The same is often true in our personal lives. We take on new commitments, say "yes" to one more committee or discover a new hobby — but do we remember to say "no" or take away something else to make room for what has been added?
We must use our own judgement within our specific ministry context to evaluate the current success, or lack thereof, in order to determine which areas need to be pruned or shaped. Just as in gardening, there is certainly a delicate balance which needs to be found between the fading and the blooming. Of course it is important to care for the programs and events in which there is continued interest and participation. Without giving time and energy to the successes of our ministry, it will all fade away.
Continue to pour yourself into the areas of ministry that are thriving but consider the areas which are significantly fading. Look closely at the blooms, turning over each individual petal to discover what lies underneath. Carefully examine your church programming, events, personal hobbies and volunteer commitments.
What is it in your life or ministry that you need to "deadhead?"
Rev. Martha Kate Hall lives in Macon, Georgia where she loves her life as a wife, mother and serves as Associate Coordinator for Congregational Life at the Cooperative Baptist Fellowship of Georgia.