By Lawrence Powers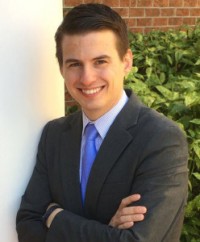 "Young adults don't care about the Church anymore." A refrain whispered (sometimes shouted) in congregations across the nation. We look around, often graying, parishes and see a faithful people whose average age is somewhere closer to the senior discount at Denny's than any of us are comfortable with. We despair, moan and, in some cases, give up altogether.
As someone who serves with young adults — and as one myself — I don't think giving up is our best option.
It may seem like the easiest thing to do, after all, we've already put stock in them: we provided nurturing through spiritual education; we made sure they knew Bible verses, we've built the foundation. If they're not coming back through the doors, what else can we do? Why use resources, time and sanity to reach a generation that is, increasingly, not darkening any part of our buildings, much less the doors?
My answer to this question is simple in syntax, complex in actual action: because the future of Christ's Church, and the world it is called to impact, depends on it.
One thing the Lenten journey reminds us of is that life is fleeting and, one day, will come to an end. Every one of us will one day see death and possibly, with us, the organizations we're faithful to. If we've not sought out ways to mentor another generation to lead, those organizations will die with us.
So, if this is true, what can we do? How can we reach the young adults around us?
Recognize That the 'Same Old' Does Not Work
At one time, a big tent on the lawn could draw in crowds, young adults amongst them. Now-a-days, you can throw up as many tents as you want but won't have much luck bringing young adults in. The Great Commissions mandate to "go" is as important today as ever. As you're having conversations about reaching young adults, are you asking "how do we get them to show up here?" or are you focusing on the more apt question: "where are they and how do we bring church to them?" The answer to the latter is critical to the future of the church.
Change the Language
"Sin," "repentance," "grace, "holy," are all words that we've relied on for years to share the good news (that's another one) of Jesus with people. We use them today to share the message of Christ and wonder why they hold no weight. The answer is, somewhat, simple: they're not recognized anymore. Further, for those who do know the words, they often carry reminders of deep cuts made by previous experiences. To effectively share the Gospel, we've got to find ways to update the language, to convey the deep meaning of our faith without using a language that has been left behind, or has never even been heard, by so many young adults in our communities.
Cut the Strings
Young adults can smell it from miles away. They know if what you're offering them has strings: a free meal to get you to sign-up for something, a 'theology on tap' to get them to show up on Sunday morning, an on-campus marketing event to fill your roster quota. If you really want to be the presence of Christ in the lives of young adults, don't just go to them, do so without any expectations whatsoever. Share life with them because you care about them, ask questions without any ulterior motive, and show them that you're willing to listen to them without expecting that they'll listen to you (they will, in time).
Listen, Listen, Listen
From politics to service, young adults care deeply about many things happening in the world around them (just like you do). Know, from the beginning, that these conversations will not always land you in 'safe' or 'comfortable' territory. Don't dismiss the conversations because you disagree or don't understand. Show that you are willing to engage young adults, wherever they are, and that you're willing to listen and learn more about them and why those things matter. In my experience, you'll both discover that you have a lot to teach one another.
Let Them Lead
Many young adults don't feel they have a place in the local church. If they show up at all, they're often shuffled to a Sunday School class or small group that corresponds with their age or current place in life. They're invited to lead in those areas, but excluded from much beyond them. If we're going to successfully reach young adults, we've got to give them space to lead. We've got to create space on our Deacon Boards (and not just for those who are old enough to qualify for the Presidency; we've got to think outside the age box and be willing to allow even younger voices a place to speak). Give them chances to form-and lead in- worship settings, discuss small group curriculum ideas, sit on the deacon board, and serve on our staffs. Take a chance on younger members and find spaces to journey alongside them as they discover who they are as individuals called by God. (And the answer is "yes," this will likely change what your church and ministry looks like: and that's not a bad thing).
I realize that this list is not comprehensive. It is not intended to be. However, I firmly believe that, in doing these things, we'll find ways to deepen our ministry and, in the process, will see new life breathed into our communities of faith.
Rev. Lawrence Powers currently serves as the Triangle Area Cooperative Baptist Student Fellowship Campus Minister for the Cooperative Baptist Fellowship of North Carolina.
Note: The views expressed here in columns and commentaries are solely those of the authors.
Interested in writing for CBF at Patheos? Submit your column idea to CBF Communications Director Aaron Weaver at aweaver@cbf.net.