By Danny Chisholm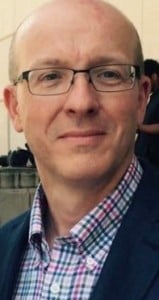 We're approaching the Thanksgiving season, and with that, thoughts about the kind of year it's been. Is it possible to run out of words to describe the mood of our nation?
We have gone through tumultuous, serious, and some would say ridiculous political experiences. There have been significant developments around the world relating to the condition of the poor, the vulnerable, and the oppressed. We have witnessed natural disasters along with terrible gun violence. Most recently, we've seen and heard about the people who were killed while they were in their house of worship. This most recent development at FBC Sutherland Springs has caused many congregations, including ours, to revisit their security procedures.
Security is a timely word.
We all long for it. I want to provide this for my own family and move our congregation forward in a reasonable conversation about who we are, what is going on in our world, and how best to respond to it. But, I'm reminded of the simple truth that despite our best efforts, there are going to be times when things happen beyond our control. It is during those times that we most struggle with the realities of our faith in Christ and the challenges to that faith that the world provides.
I frequently go back to the phrase popularized by the late John Claypool in responding to the death of his 8 year old daughter: "Life is a gift." Indeed it is. I find that when I approach each day with this mentality, it provides a better perspective on dealing with people, places, and events. It doesn't solve my problems of course, but it causes me to slow down to realize that I don't deserve the blessings I've been given. The old hymn is still true: "Count your blessings. Name them one by one. And it will surprise you what the Lord has done."
When asked what I think about what's happening in our nation and world, I'm tempted to focus only on the negative. It's easy to do, and most of the ink (literally and digitally) is tilted in that direction. It's important to be aware of events taking place around us, and be challenged to see how our faith intersects and influences our reactions to them. However, it's also vital for our own spiritual, mental, and emotional health to have a positive, meaningful approach to where we are and what we are going as individuals and as the people of God. This is not always easy to do, but for myself at least, I need the reminder. Especially at Thanksgiving.
So, I'm going to attempt to pump the brakes a little bit on how fast life comes at me. I'll do this even as I and our family make the annual pilgrimage to see Lori's parents (and perhaps more importantly) Cally, Lucy, and Matt's grandparents. For the weekend at least and maybe beyond, we'll have fun stressing over the outcome of the Iron Bowl and elevate it's importance beyond what reasonable people do. But, it will be fun to be together and that for me will make for a meaningful experience.
So, I'm hoping for a great Thanksgiving. I'm hopeful for a great Thanksgiving for all the victims of the floods. I'm mindful of the families who will have a place missing at the table because a family member was taken from them through gun violence. I'm hoping for a great Thanksgiving for all the victims of sexual assault who have spoken out recently about their experiences. I'm also grateful for all the churches who are reaching out to these persons in need. The recovery process will take a long time and there won't be easy answers, but I'm thankful for those who are being the presence of Christ in a timely manner.
Along with that, I'm hoping for a great Thanksgiving for myself, my own family, church family, and all my friends. To be honest, our entire nation could use a great Thanksgiving.
One definition of what I'm talking about could include lots of food, family, and a celebration of what we have and hope to accomplish in the days ahead. But, what I am learning is that being thankful causes me to slow down and appreciate what I already have. As Robert Holden said, "The real gift of gratitude is that the more grateful you are, the more present you become."
A prayer for myself first and our people is that we would slow down, and even stop on occasion, so that we can be "fully present" during the time we have right now. Conversely, let us be mindful that ingratitude is a terrible vice and can be toxic to our well-being. Let us practice gratitude for the simple things and be "in the moment" because we aren't promised another day. And, may we be encouraged to what the Lord has done, and is doing, among us.
Danny Chisholm serves as senior pastor of University Heights Baptist Church in Springfield, Mo. Read his blog online at https:/dannychisholm.wordpress.com and connect on Twitter at @ChisholmDanny
Note: The views expressed here in columns and commentaries are solely those of the authors.
Interested in writing for CBF at Patheos? Submit your column idea to CBF Communications Director Aaron Weaver at aweaver@cbf.net.