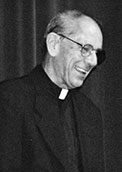 One of the great joys of editing Gilbert! for fourteen years was editing James V. Schall S.J. Fr. Schall, 91, died Wednesday. May he rest in peace.
Fr. Schall wrote the "Schall on Chesterton" column for Gilbert! since its founding in 1997. Before that, he contributed the same column to the Midwest Chesterton News. He also wrote for numerous other publications, all while teaching at Georgetown University.
After his retirement from Georgetown in 2012, he continued to write for Gilbert!, always turning his articles in on time (for any editor, that alone is grounds for instant canonization, trust me). Health issues? Wikipedia says, "In the summer of 2010 he had a cancerous jawbone and its attached teeth removed and replaced with bone taken from his leg."
But did he miss his deadline? No.
It can be truly said of Fr. Schall that he wrote for Gilbert! right up until his death. I just re-checked the newest issue, March/April, 2019, and there he was, in his usual spot—right after G.K. Chesterton's "Straws in the Wind" column.
In the 1960s, it was said that no one wanted to follow a performance by Jimmy Hendrix. In Gilbert!, the only one brave enough, or worthy, to follow Mr. Chesterton was Fr. Schall.
Fr. Schall's copy often needed a bit of work, and that was fine. Turning rough drafts into publishable essays was my job and I loved it. I—all of us—took great pride in making Gilbert! as professional-looking as possible despite its shoestring budget and our bare-bones staff.
And with a little polishing and the rough bits chipped away, Fr. Schall's clear, straightforward prose shone forth. I went into my archives and picked, at random, a couple of Fr. Schall's old essays. Here are the gems I found.
Fr. Schall in Gilbert!
In "On the High Road of Reason and Nature," from the November/December, 2015, issue, Fr. Schall writes:
Religion is a natural virtue, a species of justice. It is our imperfect efforts to return to the gods what is due to them. And since, strictly speaking, we can give those who already have everything precisely nothing, religion searches for the proper way to praise the source of this "debt" that it knows it owes to someone. Christian revelation is nothing less than God's instruction to us of the proper way to worship Him, something we really could not figure out by ourselves. This is why there are many "religions" but only one true "revelation." Philosophy by being itself can see that revelation cannot be wholly ignored.
By defining religion as "our imperfect efforts to return to the gods what is due to them," Fr. Schall elegantly strips away all the trappings of religion and belief, revealing what the human heart years for, whether that heart beats in the chest of a Christian or Muslim, a Jew or gentile. We are all the same, which is human.
Here is Fr. Schall writing on "Chesterton on 'Humour'" from the March/April, 2014, issue:
Chesterton held that three names—Chaucer, Rabelais, and Cervantes—epitomized this European spirit [on humor]. Chaucer taught us that we could laugh at people and still like them. Rabelais showed that "intellectual things could be treated with the energy of high spirits and a sort of pressure of physical exuberance, which was itself humorous in its very human abandon." And since Cervantes' time "the confession of weakness and complexity…has been a sort of secret of the high culture of the West." Whatever our dignity and nobility, much of life is spent in doing things we would never do yet still do them. Laughing at ourselves is almost salvific in this sense. "Humor, as distinct from wit, from satire, from irony, or from many things that may legitimately produce amusement has been a thing strongly and specially present in English life and letters." "Humour" has added something to human life.
This being Holy Week, I read, "Laughing at ourselves is almost salvific in this sense," and immediately wondered—without detracting from the gravity or centrality of Jesus' sacrifice for us on the cross—whether, in the midst of unimaginable agony he was, deep down, laughing, as an expression of his unfathomable joy at accomplishing what he came here to accomplish.
Lovers laugh, and Jesus was Love Incarnate. I imagine he was laughing all the time, though as Mr. Chesterton himself wrote, though Jesus openly expressed the full range of human emotion, "There was some one thing that was too great for God to show us when He walked upon our earth; and I have sometimes fancied that it was His mirth."
Gratitude
One of the reasons I love Fr.Schall is, though he definitely was from the right side of the political spectrum, he, unlike many, never tried to shoehorn Mr. Chesterton into his own worldview. But it would be inaccurate to say he shoehorned himself into Mr. Chesterton. No one shoehorns himself or herself into Mr. Chesterton. G.K. Chesterton is too vast, too deep, for that.
Rather, Fr. Schall recognized, in Mr. Chesterton, a superior intellect and a more joyful spirit, and let both wash over him.
This has been a Holy Week of extremes. Monday, we watched in shock as Notre Dame Cathedral burned, then on Tuesday wept in gratitude at how little was actually lost. Wednesday, I mourned the death of Fr. Schall, and then rejoiced as, writing this, I relived so many memories of working with him.
The intellect of James V. Schall S.J. is superior to mine. For as long as I live, I will be forever grateful for the gift of being his editor at Gilbert!. For fourteen years, six or eight times per year, I had the supreme privilege of entering the mind and soul of a joyful and humble man.
Thank you, Fr. Schall. And as you closed every email: pray for me.
(Black and white image courtesy of the American Chesterton Society. Color image courtesy of America.)