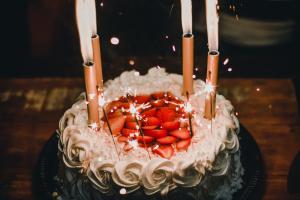 Today my son turns 28, and it will be his second birthday during a pandemic. It's hard to gin up the energy one would want to celebrate, when this past year has been one of waiting for something that has yet to fully happen. I suggested we redshirt everyone and put a 27 on the cake. He didn't go for it.
However, I decided it was a good idea to think back over the past year, and consider all the great and good things that have happened.
I spent a year with my children, some of whom I wouldn't normally see much, because they'd be busy with plays or proms or meets or homework.We got to spend time with our seniors, the one in graduate school, the one in college, the one in high school, the one in eigth grade. All the kids got to spend a year, having dinner with their father almost every night and more time outside and just…more time. I got to not be, "My mother the car."
We learned to bake bread and cook soup (or the kids and my husband did), bread dough and I aren't friends. We got help and remodeled two bathrooms, played cards and baseball and read books, screamed at the deer and the squirrels who ravaged our garden and bird feeders respectively and trimmed trees. In the garage, I played the drums and my middle son, his guitar until we discovered it stressed out the dogs of our neighbors. That same son got a job making bubble tea, and talked about how nothing has happened if you don't count getting taller and older and his taking the S.A.T. I count that as something happeneing. Everyone kept thinking nothing was happening, but to me, the ordinary time is always extraordinary because it is measured in moments of connection, of affection, things that don't trend, aren't necessarily sharable or story bound, but which hint at the scope of how we are to love.
That's why birthdays are so important. They aren't about the party, they're about the person we celebrate. My son turns 28, and the years have flown by fast. Every year, we celebrate the Feast of the Annunciation, of Mary's fiat, with a celebration of his life and how he changed ours.
Finding out I was pregnant, I went to the obgyn covered by my then cheap rate insurance. They took my blood. They tested me. They listened to my health issues and told me, "Abort." I ran away from that doctor's office. I found another. I told them my health issues. They did the same tests. They also recommeneded abortion. I found a third doctor.
By now, I felt very scared for my life, for his, by everything. My layrnx is half the size of everyone else's, and at the time, intubation would be a serious issue, life threatening, if it were an emergency. The third doctor proposed an alternative. If I agreed to a voluntary tracheostomy under local anesthesia, they could schedule an induction and I could safely give birth with a secure airway in the event of emergency. I'd weathered two tracheostomies in my lifetime, one for the first eight years of life, and a second for emergency surgery at the age of twenty-one. When I pointed out "This isn't a zipper." He agreed. "It might be something to consider," he said.
I cried. The next day, I biked to the local church from our apartment. It wasn't any feast day that I knew of, just an ordinary week day in July or late August. However, the nine o'clock mass was packed with moms. I'd never seen or noticed so many women with children. They were pregnant, pushing strollers, pushing multiples in strollers, having toddlers trailing behind them like chapel length veils. The line for the Eucharist became a procession for me, presented by the Blessed Mother herself. I could hear with each woman receiving, "It will be okay, it will be okay, it will be okay, it will be okay." and in my head, the vision of the Blessed Mother, her arms outreached, with children beneath her mantle, came into my heart. I called it the dripping baby mass. I can still see all of that in my heart in a moment, but it was the moment I said yes, and the world for me forever changed.
So two days before his scheduled birth, I lay on a table listening to classical waltzes on a CD given to me by my husband, and the steady heart beat of my son from the monitor. My father and mother called the trache of my childhood, a beautiful silver tube, and my dad once gave a talk at an Acts retreat comparing it to a cross. Being the one with the tracheostomy, I didn't quite grasp the reality of what it was for them to watch me with it, or to worry about it. Even having it as an emergency wasn't something I really thought about, it simply was needed.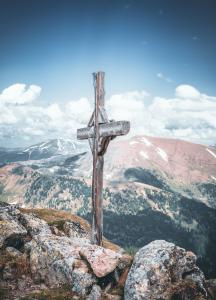 Now, it was a choice. Now it was a cross to embrace and to carry. Now I knew it too, both as a means of preserving life, and as a challenge to undergo, endure, and offer. Like parenthood, it came with joys and graces, but in isolation, looked terrifying. Looked at through the lens of eternity, it was a small price to pay, and one I would willingly take on for someone such as my now twenty-eight year old son. Born on the Feast of the Annunciation, the Blessed Mother brought me the courage to revisit this reality. It's small wonder he now teaches at a Catholic school named in her honor. In the meantime, happy birthday Will. You are beloved, and thank you for being my introduction to the bigger world plan God held in store for us.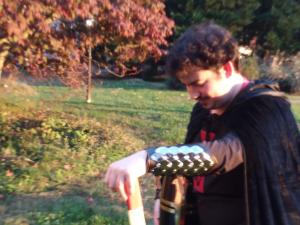 (Will at this past Halloween, dressed as a knight bowing before his nine year old sister, dressed as a princess). Ever the knight.