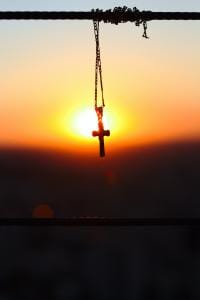 WE'VE NOT LOOKED AT CHRIST ON THE CROSS AS FOR US
It's been a tough run for being Catholic in recent years, because we keep finding out, the Church is a hospital full of the sick, some of whom don't know they are sick, and others of whom still don't know. We keep thinking we're better. We're not. That's the hard reality and the great comfort, because we're not better, and yet God loves us. We're not better, and yet God wants to heal us.
There is only one Divine Physician, and while all He offers heals, it does not come with a spoon full of sugar. It comes on the cross. The most healing thing He offers is Himself. The most healing thing we can offer is our imitation. He heals by sacrifice, by His passion and death on the cross, by His love. So also, we can heal by sacrifice, by embracing the cross, and man does the world need more healing.
How do we help heal the world? It means doing the harder thing; giving more than we would want without resentment; denying ourselves more than we wish without grumbling. It means spending the one commodity all of us have no matter our status, (the present moment), on being present to others. What that looks like depends upon our gifts, our interests and our life situation.
WE'VE NOT WANTED TO ADMIT WE NEED TO CARRY ONE OURSELVES
These days, we hear a lot about self care and the need to carve out space for ourselves…but what if we opted for a both and, where we were deliberate in our outreach to others, and made sure we guarded our own health (spiritually, physically and emotionally). Both and sounds like a lot of work, almost impossible in the world we live in, that likes to create binary choices and pretend that life is always a zero sum game of either or…when as Catholics, we know it's supposed to be both and.
Lent is a reminder that we tend to spend much of our lives trying to avoid the sharper points, the splinters of life, and the unpleasant parts of living, and that fasting and alms giving and prayer is necessary, if we would have a deeper relationship with God and others. We can't stay on the surface and be of substance. We must allow ourselves to be pierced by the suffering of this world, and be willing to bleed out for the suffering, both by how we act and what we say, by what we do and do not do. Both And is the essence of being Catholic, embracing the cross and knowing it is actually a luminous gift, to do so.
WE ARE CALLED TO BE LUMINOUS MYSTERIES THAT REVEAL THE DEEPER MEANING OF THE CROSS
Both And means Martha and Mary, Both And means Peter and Paul, Both And means there isn't a difference between the interior prayer life and the exterior service, because both extend out to eternity. Both and is loving God with your whole heart, and your neighbor as yourself. Both And is wearing the masks to protect others and daring to go out your door. Both and is not a work-a-holic, it is a life lived not for instagram or tweets or public praise, but for the purpose of being love to others.
That's very poetic. What does it mean in the here and now, in this time, this place, in the interior of ourselves? It means use these remaining weeks of Lent to look at where the Gospel grates against your soul…what's being offered by God, is the opportunity to have the sins and grievous faults of ours, to be sanded down. My favorite scripture passage in the Gospel is "Ask and you shall receive" from Matthew 7:7 So I cast about for what Christ says that makes me pull back, for that part of what Christ says that makes me tremble and worry and wonder "how can this be so?" and the passage is a little later on in the same Gospel,"Do not think that I have come to bring peace but the sword." from Matthew 10:34.
BUT THAT MEANS WE MUST BE WILLING TO FOLLOW CHRIST ALL THE WAY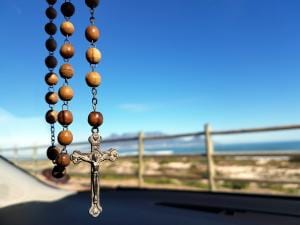 It made me wish I'd not started down this rabbit hole of thinking. How can the Prince of Peace, the One who is Love, who wishes on us, "Peace be with you." want families divided, mother from daughter, father from son? This is Christ speaking, speaking to His disciples, and to any of us who have ears, inviting us to follow Him.
The reality of not wanting to have sin sanded away and not wanting God's way to be bigger than what we want to inhabit comfortably hit me. God's love will always be bigger than we can fathom, and thus there is no point at which we do not need God to sand down our hearts more, so they will be less caloused, less rough, more willing to hold more of God's love.
Having a heart for love alone will make us strange to the world, to the extent others in the world are not also seeking to love and follow Christ by how they live. Asking to receive understanding, and to have a more understanding heart, and to be more loving like Christ loves, is asking to both be at peace with God, and perpetually not at peace with one's self. We will never "arrive" at being who God calls us to be, because we can always become more what God calls us to be, and we can always (owing to free will), become less subserviant to God.
GET COMFORTABLE WITH BEING UNCOMFORTABLE
The danger for most of us, is we are comfortable, and we aren't willing to let ourselves be grated by the Gospel, or by what God asks of us, and thus we go away sad when we could be going deeper and deeper in. Let us begin again today, to seek and ask to go deeper and deeper in, and to fast that we may be at war with ourselves. Let us know we always need more sanding. Let us seek to embrace whatever cross we've been given, and fight against the temptation of thinking we've made a "good" Lent if we haven't broken our planned resolution yet, and against the despair of a "bad" Lent if we've lost focus or never quite got going. The great both comfort and awe of our God is He sees us flailing and wandering in our lives and trying, and He loves us. He also sees when we think we're on track going straight, narrow and somehow still going in the wrong direction and still loves us. He knows the deepest interior of our hearts, and whether they long for and cry out to Him in the desert, or not and He loves us.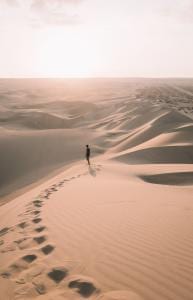 Pray to practice being both and, and spend this Lent praying with the passage that challenges you the most. Don't let yourself stay on it for a day, but for all of the days…not so you make peace with it, but so that it reveals to you, the pieces of you that need God's healing only found in His Hospital at His hands. My problem is, I like dropping the splinters rather than picking them up.
Seeking to be Both And will grate on your soul as only a cross can because it is one. It's scary and necessary…so today, I'm hoping to hold onto a splinter to start.