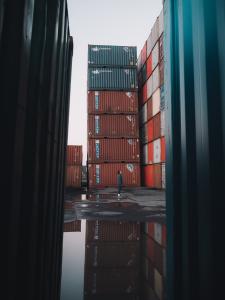 Truckie Day is coming!

We're preparing for "Truckie" day.
I first created this tradition of every few years, renting a truck, filling it with all the broken stuff and hauling it to the dump. It's always a Saturday and we feast after having cleaned out the home of broken and outgrown things. We plan for one trip to donate and one trip to toss before we return Truckie. The kids often give the truck a grateful pat when it departs to go back to the rental place. It's a cleansing of the family psyche and we all look forward to it.
In the study are three old computers. They are not going.
They're not going because on one of them, is a story written by my dad. The machines won't let me access it because they spend all their energy when we turn them on, coming to life. However I know one of these holds the words of my father coded in zeros and ones, and so it is a relic I haven't been able to discard. Writing down what I remember or even telling it to others would make it my story, and while the story is about me, it was and remains my father's. The story revealed to me how he and my mom saw me trying hard, even though I didn't know exactly what I was trying to do. That memory, that feeling of knowing I was seen and loved despite all the awkwardness that adolescence brought to the table, stayed with me, and perhaps that's all that should stay. Perhaps the computers should go, dinosaurs that they are.
Except I keep hoping somehow, one day to figure out how to get that story from the machine that starts with a login to MSDOS, so that perhaps one day, one of my children who needs to know who their granddaddy was and why their mother is as she is, (in part), can know. My desire to eliminate clutter and hope to hold onto something always clash around Truckie day.
Everything Must Go…Except that…and that…and why did we?

For every thing I don't remember but don't miss, there are some that came from becoming at least for a moment, Marie Kondo in my sensibilities that I regret…my record collection for example, discarded in two places, proving I could forget the lesson of discarding one set by doing it again ten years later. We're not hoarders, but there is a clinging to what we've done represented in things, because the things over time reveal the time we've spent, the actions and the events and what mattered.
Truckie takes away or is supposed to remove what is broken that can't be fixed and doesn't matter –so I send the children out into their rooms, searching for the untreasured because it isn't what they hoped or they've outgrown it. It's an act of faith, because I hope they don't bring back something we hoped they'd never outgrow. Thinking about getting rid of the lamp and broken chair, I shake my brain…we love Truckie day..it's fun and freeing to get all the stuff we haven't gotten around to getting rid of, out of the house. However, the computers remain a reminder, I'm not as not sentimental as I thought, I won't surrender them, and I wonder, what will my children have in their homes that they can't access but won't let go of, that reminds them of whatever they remember, about growing up?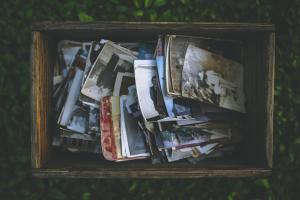 Hold on Tight to the Right Stuff

Think I'm going to add something to the dinner celebration of Truckie day, and ask them to figure out what they want to keep and why. That way, I can start to know their stories of what will be relics for them, and writing this, has prompted me to go and see if I can use a USB to extract those memories from the machines…because the story is what matters, not the binder that holds them. If I'm successful, I'll post the story here, and the internet can be the binder, and for the kids, well, they'll have fifteen years plus of blogging from their mom that they don't have to clear out of a machine because the internet is forever.
Love you always kids. –Mom.