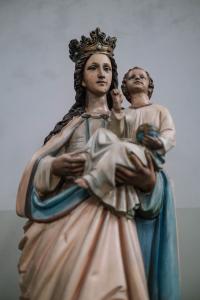 It's May, the month of our Blessed Mother.
What are you doing for her for Mother's day?
Our Lady loves to help with the work of her Son, the Savior of our souls, and so she spends her time in Heaven bringing our prayers and petitions to Jesus, both for the things we ask, and the things we do not know we need. We do not often know how much we need, only that we need much.
So Mary, knitter of souls gets to work, with the threads we provide in each chaplet, each rosary, each mass, each sacrifice, each kindness we offer. She patches the hearts, darns the souls and brings them to our Lord.
Nothing is lost. No prayer remains unheard; no cry of the heart, not carried to the throne of Heaven.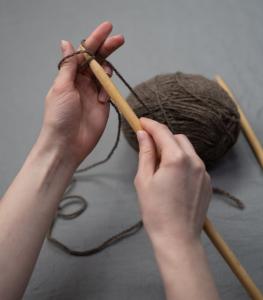 What a great comfort! Just to know, everything is heard and heard fully. Mary, like her Son, never half listens or files away our requests hoping we won't remember we asked. Undoer of knots, the Blessed Mother sees the messes we create for ourselves and others. She sets to work giving us the means to let these frayed strands of our life be made neat.
Mary holds all of our worries and hurts in her heart. Pierced by love, she keeps all of us close; most especially those of us who have closed ourselves off from graces. She takes the prayers of those around us, and knits a thread of grace just for them. They need only seek to receive these gifts. Spinning something purer than gold out of the straw of our prayers, she offers each of us, access to her Son, to the greater portion we should all seek here.
So pray for each of us, for all of us to seek her company, and to receive her gifts.
As we swing back into the business of busyness that defined all our lives before Covid, this May, call your Mother. Call the Queen of all Souls and all Heaven with rosaries, with gifts of self. Make it a deliberate way of each day, as Saint Joseph would have done on a daily basis. He would have brought her flowers. Each prayer we offer is like a rose for our Lady. He would have done small acts of kindness to serve her and Jesus. These little gifts would be like what we bring to our mothers here when we are small. He would have brought others into the house to be in their company then, and does so even now. This is the calling of every person in the church, to bring others. In this Year of Saint Joseph, nothing would delight him more than that we honor her and her son. It is the way of all his ministry, all of his sainthood, to direct all of us away from him.
So consider that it is May, and that each day, we have an opportunity to "call our Mother," and bring to her all that needs fixing. Keep a notepad or a journal of what you bring her, both in the form of gifts and petitions. Write them down and write when they're answered. At the end of this month, I think you'll find, souls mended, hearts refreshed, and many of the bruises of this life, kissed and made better. I promise she will return to you a shower of graces that will astonish.
It's May! Call your Mother and bring her all your prayers.