It's a grace to recognize gifts. Yesterday, the gift of searing a moment was received.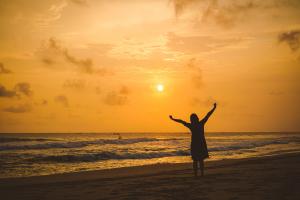 It began with getting my son out to the bus. Normally they show up right at seven, but today were delayed. I took out my phone and began one of several prayers I try to get through for my children. The worries of tomorrow kept interrupting and I found myself in tears mid prayer. My son Paul is twelve. Even with Downs, his tween-ness normally keeps him from being too attentive to Mom, but the crying brought him over. He patted me on the back. "It's okay Mom." he said in his slurred voice. He knew if nothing else, I needed the pat. The bus came, interrupting the moment, but I can still feel the pats.
I finished the prayers walking back up the hill, taking in the sun and the sky. The bird that the kids named Aggresso because he dives at you if you go near the nest soared by. My husband's gladiola bloomed today, and the tomatoes in the front pots are changing from green to orange. The cucumber plant needs watering. Amazingly, the deer which frequent our yard haven't found it yet. Tomorrow is the day of surgery, and I still needed to work out some fear about all of it, and help my children work out their fear as well.
Inside, my husband discovered the dryer doesn't want to work for more than fifteen minutes. He's got to prep for tomorrow so I assess whose' clothes win the most laundry and that child gets awakened to run with me to the washeteria with a side stop at Dunkin' Donuts. The last day of ordinary time would be spent doing ordinary things.
Two hours later, we've done eight loads washed and dried and coiffed down diet coke and a strawberry refresher respectively. I need to pick up my mom from her hotel. There aren't enough beds in our home to let her have privacy. There isn't privacy in our home. Mom and I talk on the phone. She's not ready yet, so I stop by our house to drop off the clothes and pick up our youngest for a doctor's appointment. She wanted to get it in with me, rather than a sibling. We'll pick up Mom afterwards.
The doctors' appointment goes without a hitch, but there's a man yelling at another man while they work to fix a flat in the parking lot so we stop at the local bakery to buy them waters. The day turned oppressively hot, so we figure, they could use a break. When we get back from the store, they're gone. My daughter happily muses, maybe they went to a store and got something to eat. We drink the waters and pick up my mom. Returning home, my husband's gone with our second oldest to the grocery store, so we fix lunch. There are six or seven phone calls to make, and I should pack. Packing makes it real. Time seems to keep expanding out so I can see the minutes, and collapsing, where I'll never get it all done.
At three, we drive to the church for the Anointing of the sick. Fr. Dave blesses me and tells me he's offering a mass the next day for me on his day off. I want to be fully present, but I don't quite feel I am. Our conversation is cut short when the hospital calls. I would like to talk to Father Dave about several things, but hold back. People have been praying for a miracle, and I've been trying to just get to the next day. On reflection, why haven't I prayed for a miracle? I don't want the cancer, and yet, I have not asked. I want to do what will be best for all my children and my husband, and for me. I've prayed for good surgeons, for good outcome, for strength to get ready, for the cancer to be cured, in a sense, all ordinary things. Why have I not asked bigger things?
My mom holds my phone so I can finish the sacrament. Fr. Dave tells me he will be offering a private mass for me on the Feast of Saint Martha and Saint Mary and Lazarus. The feast day makes me happy. I love those two sisters, and my sister and I joke that I'm the Martha, because her first name is Mary. She is more contemplative than me and I am more busy. I wish she were here too. She also always gives me perspective. I think of my brothers, my inlaws, my cousins, my aunts and uncles, friends, and she'd laugh at me because she knows, I always want everyone at every event. You know the saying, "you can't have everyone at the party…" that parents tell kids? Well, kids have to tell me. Because I always want everyone at the feast.
I want to live and this summer has been spent worrying that I might die. I want to have forty-five more years of life so I can see my youngest daughter to my age now. That is my prayer, that is my hope, and that is my ask. I will take the suffering. I want to go to the point that cancer is a distant memory, one bad day (the surgery), in a lifetime of loveliness that included bad days, but was always and is always graced. It's a great comfort to know, I can screw up getting through a day, and the day itself, is still graced.
Getting back in the car, the surgeon calls again and she and I talk through the next day. I learn I should be there at eight. The clock speeds up again as we drive home. I crash for a time. Cancer doesn't hurt yet, it just wearies. I hate feeling weary. It's not me. It's not ever been me. I sleep for over an hour and wake to children in the kitchen. It's disorienting to nap so late, it feels like it should be tomorrow, but I'm glad it's not yet. They've been planning a water balloon fight.
It takes effort to say "Yes." It takes effort to get changed. By the time I make it to the garage, I feel more me, and hop on my drums to bang out a few moments, enjoying the full use of my arms that I know will vanish tomorrow for a time. The kids have two hundred plus balloons in a plastic pool and four water guns. I am the prime target, even over Dad who sports the hose. Before long, every balloon is popped and I am drenched. The play goes on until the sun starts to set. Paul tried to drown me with the water gun, aided by his older brother. While I'm getting cleaned up from all of it, my husband, mom and daughter prep dinner. My son proposes a fire and everyone agrees to s'mores for dessert.
At dinner, I note the laughter, the flash of a smile from one who is sullen, and recognize, this too is a grace. This ease that isn't always at the table, is a gift. The burgers, the corn, the chatter of children, ABBA playing in the background, all feel like perfect snapshots. I know the peace that descended is a gift. Kids finish quickly and scoot out for toasting marshmallows. We burn a few. They think burned marshmallows are my favorite way to eat them. They're not, it's just I'm not always good a toasting.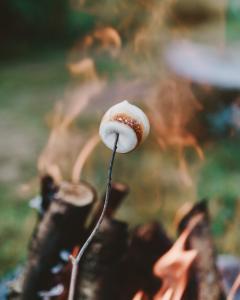 Some of the kids burst into spontaneous campfire songs, including one who never sings. It's a gift again. The sun sets and there are eight sticky faces including my own. In the twilight, the teens play "Shoe chucking," an Olympic sport of kicking your shoe off and whoever gets it the furthest wins. Whoever kicks it the shortest, gets to get everyone's shoes. Gold, silver and bronze are awarded.
A thunderclap signals the end to the outside time. It begins to pour. I know such storms are my youngest daughter's favorite weather, and I know she feels anxious about tomorrow, so again, it feels like God offering little treasures to comfort my youngest treasure, comforts only He can give. The teens file down into the basement to play video games and guitar. We finish packing and tidying up. My husband and I watch a bit of the Olympics and say our prayers for the evening. He falls asleep fast. Tomorrow will be a great day, because it will be the start of a cure.
At five o'clock, I wake, and spend the hour revising and reflecting, and listening to my husband's steady breathing. It is again a wave of comfort and a reminder of the time ebbing. Grace abounds, grace abounds, grace abounds. I tell myself, and recognize that all of this time, has been stored. Normally, I can drift through a whole day and only recall some, but all of it is stamped somehow in a way that I can't miss.
I would like all of the surgery to be over, but not all of this. I want more of this, lots more, and that's the miracle I want God, for more of this great beautiful life, for more of this time with all of its trials. That is my prayer. That is my hope. That is my ask. However, I also trust, whatever God wants to bring about in today, God will, and I will give thanks. The sun and my son rises. The day and the clock continue to spool out faster than I want, and yet be keenly noted.
There are many perfect days I think if we seek to find the grace infused and embedded in them. The day of the surgery won't be one bad day, but another perfect one –just as Good Friday is a perfect day if one knows the grace offered in it. Everyday like everyone, is wanted. Every moment infused and embedded with grace for the giving and receiving. Today is the day, and I have great hope and at the moment, great peace about the surgery. All will be well.
Every day is grace.