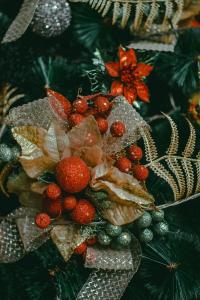 As a Catholic, we're always supposed to mindful of the liturgical season; Advent, Christmas, Ordinary Time, Lent, Easter, Pentecost, Ordinary Time. Advent, the weeks leading up to Christmas, is a time of blessed waiting. I have been waiting to find the right people to perform surgery on me since May 17th. The time of blessed waiting, needs to be over.
"I need a little Christmas, right this very minute. A surgeon at the ready, a hospital bed that's waiting, yes I need a little surgeon right this very minute, to remove all of this cancer now…." Cue dancers in white faux fur trimmed red tennis dresses to jazz dance across the stage.
Every day here is a gift. Don't think I think otherwise. I like watching Loki with my kids, getting ice cream as if we aren't waiting for the surgery day, and going to the pool. I liked working, somehow keeping busy so I wouldn't be just waiting for the day when we would no longer be waiting, when we would be undergoing this procedure. What I don't understand is the seeming casualness of delay. I have good insurance. I have support. The delay can be fought. But the delay will eventually cost if it lingers too long, and no one knows how long is too long…I only know, every day we get closer to when it is too long.
I am not eager to proceed, but I am anxious for it to be done. I've tried to not put life on hold, but Cancer will take hold of my life if it's not dealt with…and I'm honestly, really scared of that possibility because I don't know enough to know whether such a fear is unreasonable or not. It's not that I'm uneducated, but I don't know enough to know what I need to ask, and I keep hoping, when the doctors see me, that they will give me a date. They did. Then a doctor who looked at my larynx said, "Wait," and rightly so, because he feared the proposed methods of intubation would either lead to severe complications in surgery or a tracheostomy –and that would be trache #4 for me –probably not a lucky number.
So people got on the phones and I am now seeing a new team starting Monday and Wednesday. We should know more after those two doctors visits –but then they have to talk to each other before a date will be set. I will try and post more stuff as I know, and I've asked my husband when we finally get to the surgery, to post here to keep people up to date. Right now, I get to just wait in joyful hope, that I can get to the being healed of Cancer part of the journey, instead of waiting to begin the cure.