We hear the Gospels but we've heard them so often, sometimes we've lost our imaginative understanding of the reality they convey.
In today's Gospel from Luke 17:1-6
"Jesus said to his disciples,
"Things that cause sin will inevitably occur,
but woe to the one through whom they occur.
It would be better for him if a millstone were put around his neck
and he be thrown into the sea
than for him to cause one of these little ones to sin.
Be on your guard!"
A millstone conjures an image of a round stone with a hole in the middle. It would have weighed in the time of Christ, about three thousand three hundred pounds. Being a stone cutter/carpenter's son, Jesus would have known the width, height, depth and weight of such a stone, and how it could crush anyone who came under it as easily as it could grind grain. The severity of leading others into sin intentionally, cannot be underscored, and our Lord makes sure we know it.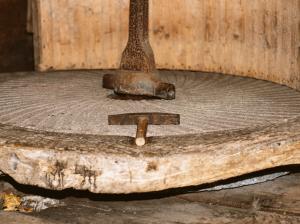 One has to wonder, have we forgotten the drowning nature of sin in this day and age, and how much we are to engage in self examination for every sin? Because the internet seems ripe on all platforms with people explaining how everyone else is doing Catholicism wrong.
What I know about Catholicism is, we're to be about the business of loving our neighbor, even the one we think is absolutely wrong on all the issues we care about, because Christ loves that lost sheep too. What's more, we only love Christ as much as we love the ones we love least. What does love of one with whom we disagree look like? Well, it doesn't look like calling someone out on the internet for being an idiot. It looks like writing them a personal invitation to discuss something and the why of it, to sift through what is true and what is not. It looks like this:
"If your brother sins, rebuke him;
and if he repents, forgive him.
And if he wrongs you seven times in one day
and returns to you seven times saying, 'I am sorry,'
you should forgive him."
And if he doesn't repent? Pray for him, really, because he will need the grace, and you need the grace not to sin by hating him for his errors and sins and not listening to the Holy Spirit (note, I did not say not listening to you). We should be as a Catholic internet, petitioning Heaven on a daily basis while writing what we know to be true, for all our brothers and sisters in Christ, praying that none of us receive that crushing stone for having led others to hate someone on our behalf, or for feeling justified in our own selves by the failures of others.
We should be asking for whole forests of mulberry bushes to plant themselves in the ocean, so that when someone does receive a millstone, perhaps even then, the trees will prevent them from being crushed by the stones and allow them to slip out and climb up on our prayers. Grace does such things. All it would require of us, is faith.
And the Apostles said to the Lord, "Increase our faith."
The Lord replied, "If you have faith the size of a mustard seed,
you would say to this mulberry tree,
'Be uprooted and planted in the sea,' and it would obey you."
So let us today, offer whatever percentage of a mustard seed we have, for all those who might be in danger of a millstone including ourselves, and see how many trees uproot.