"Come and stay at my house" These are the words of Lydia in today's first reading.  The words kept resonating in my heart.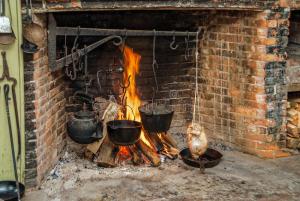 If we think of ourselves as the many rooms Jesus has prepared, when we receive, we are saying, "Come and stay in my house." and when we minister to others, it is Jesus inviting them into His interior castle.
We always think we are doing something for God, but in reality, when we serve others, God is pouring into us unimaginable grace because we've made the attempt to imitate His love for those around us.   It's rather like the child bringing a clutch of hand picked flowers from the yard, or sharing his or her cookie.  The adult doesn't need the flowers or the cookie, but the gift of said flowers or cookie is a sign of the child's love which makes it infinitely more valuable than anything one could have wanted.
We are asking, "Come and stay in my house."  Come live in me, I am not worthy that you should enter under my roof, but only say the word, and your servant will be healed.  Jesus will come in, and repair what we need fixed, so that our souls are good dwelling places for God's love.
I think of this with respect to all the ways in which we as Catholics, sometimes try to keep people out.   If the mission of modern day disciples is the same as it was when the early church began –and it is; to go and proclaim the good news that Jesus Christ is Lord, that He took on each of us and all our sins, and conquered death once and for all so that we may one day partake fully of God the Father's joy for all eternity, then this should be how we begin.  We should begin with the rejoicing, and treat the how one lives as one would in any serious relationship –something which grows over time, more and more sacrificial in nature.   We do not surrender everything yet.  We must be wooed by God, and we must allow ourselves to likewise court those we would want to introduce to God.
We want them (whosoever the them is), to want to come and stay in God's house –and that means inviting them in.  When we do this in everyday life, it is with a meal and good food for thought, and with an eye towards continuing.  Mass should be the same way.  Our witness should not involve laying out the ways to break the friendship between God and the person.  God does not need us to tell them how to live, God needs us to love them, and God will speak to their hearts about the way to go deeper ad deeper in.
Perhaps it is us that do not understand how much God desires our friendship.  We do God a great honor when we let ourselves trust Him.   When we trust Him, He can surprise us and that's almost always a delight.   He wants us to ask, "Come and stay in my house."