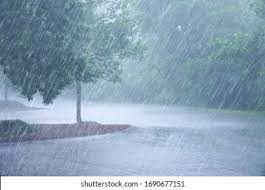 And the rains came and started our basement project early.
We bailed. We pulled up carpet. It was a mess. As a bonus feature, our washer and dryer quit last week…so towels are at a premium.  The new appliances arrive Tuesday.  I admit, I always feel betrayed when my machines quit…like I'm still here. I'm still going.   However, I've come to know, vacuums, dishwashers, dryers and washers age in dog years in my home…and I am kept young by the constant activity.  With the work in the basement alone, I will be immortal.
I am now Marie Kondoing the downstairs…and it is both exhausting and liberating. I know, she wants you to take your time about these things…not my style.   It's go time baby and we are clearing out all the happy meal toy squatters.
However nature abhors a vacuum so as I begin clearing out, two college children return to the nest with more things than I think could actually fit in a minivan or for that matter, a full sized house.   For those of you as of yet unacquainted with the return
I want to tell them…I'm moving. Do not pack up. I will gift everything to the new people provided I don't have to deal with it.  I realize how spoiled I was by the last move, where the State came in and moved everything.   Considering petitioning Maryland to build a road…before the next teen returns.
Right now, I've retreated. I'm watching Top Chef Houston, feeling jealous of these chefs pulling bull reds out of the ocean, and eaten a brownie…for medicinal reasons.
Tomorrow, we have a Gala for John, a dental appointment and another college student comes home. Thursday Peter graduates.  Hoping the weather allows us to get through this with no more drama or at least, no more water.
On top of that, I have to finish the semester.  Now we are down to the last three weeks of school…and I have to get all my students up and moving and through the last few assignments.   Poetry and lit circle have to somehow crack through the song of summer.  I'm reminded of when the ABA hosted a conference in Hawaii.  I had to ask, short of hosting a luau and juggling legal briefs that were on fire, I'm not sure how anyone would expect anyone to pay attention.   Even absent the abundant beauty and instant ocean, I don't know that roasted pig and poi would guarantee me even eye contact.
Lastly, I'm hoping hoping hoping to get to see "Everything, Everywhere All at Once," both because I love Michelle Yeoh and because the trailer makes it look like what we all hoped the Multiverse of Madness would be.
I'm posting it here in hopes that it sticks around even with Top Gun Maverick coming to the  theatres this Friday because I'm not sure I'll make it to the theatre before the weekend.
Which got me to thinking, why do we now find multiverse stories and multiple tier stories (like the whole Marvel Universe thing) more compelling –and I think they are the closest things to mirroring the busyness of our lives with the internet and all that comes with it.   All the encounters with others are just that, doorways into the multiverse where we get to see a perspective other than our own.
However, in the event that the multiverse is real, I'm hoping the alternative me will jump over and because she has super organizational powers, fix the basement without any involvement from me. I promise to update her blog which I'm sure she's neglected out of sheer exhaustion from keeping everything else in her life running smoothly.   I'll even share my emergency chocolate –because I'm certain every version of Sherry out there…likes the stuff.