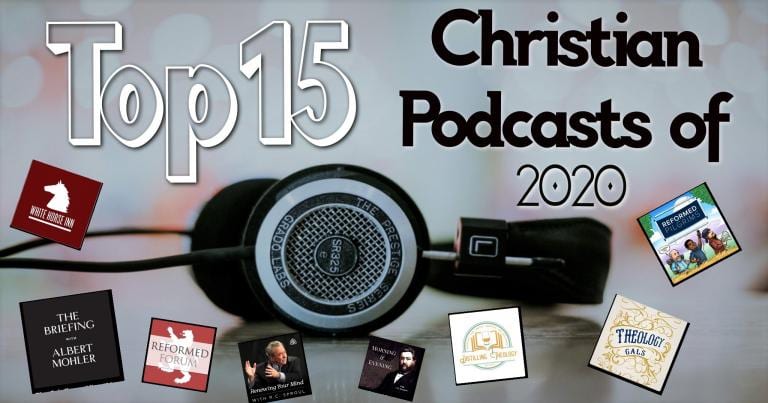 With the recent advent of "social distancing" and established quarantined areas in response to the growing COVID-19 threat, many of us may have more free time on our hands than we expected in 2020. Encouraging and informative podcasts can be an excellent way for Christians to fill their time. With this mind, I thought now was a good time to update our best of Christian Podcast list!
With a brand new Christian Podcast appearing almost weekly, it's an ongoing challenge to navigate and find quality content that is worthy of your time. My hope is that this top 15 list helps guide you to solid, encouraging, and helpful content. Enjoy and stay healthy!
You should be able to access all these podcasts via all major podcasting platforms. I have provided a link to each one's webpage just in case.
Hosted by Dr. Stephen Nichols, President of Reformation Bible College, this weekly Christian podcast offers "easily digestible glimpse of how the eternal, unchangeable God has worked in the church over prior generations, and how this can encourage us today"
This podcast has been on out best-of list for several iterations. Hosted by Summer Jaeger (daughter of apologist and theologian Dr. James White) and Joy Temby, Sheologians focuses on women. They discuss "culture, politics, art, our attitudes, our relationships, and the whole of our lives need to be viewed through a comprehensive Christian worldview."
At the time of putting together this list, The Reformed Brotherhood boasts of 178 episodes. Dedicated to their craft and content, every episode is rich in theology, discussion, and current events. They even dedicate some podcasts to a bible study format and work through a book of the bible – most recently, Micah.
Although being, relatively speaking, a newcomer to our "best of" list, Distilling Theology is a fun Christian podcast that picks up some ground where The Reformed Pubcast ended. Each episode is focused on a relevant theological subject and distilled spirits.
Although most episodes clock in at under 5 minutes, this podcast is a wonderful addition to your devotional or exercise time. This is nothing more than a daily narration of Spurgeon's classic work. It's always rich, thoughtful, and worth the investment. As the title suggests, there are 2 new episodes every day.
Build out of the audio program, Christ the Center, this podcast offers a lot to digest. Strongly reformed, they handle a myriad of biblical and theological subjects. Whereas other Christian podcasts on this list are more discussion oriented, this one is heavier on the teaching aspect. It's a great resource for pastors, seminary students, and really anyone wanting to sharpen their theological sword.
Hosted by Matthew Henry (not the puritan!), Matt Miller, Mark Mueller, and Laena Mueller, this podcast tends to be more pastoral in its approach than others on this list. Most episodes are about 30 minutes long and deal with common, and sometimes controversial, topics from a biblical perspective. Highly recommended!
Theology Gals is another podcast really geared towards women. Hosted by Coleen Sharp, Ashley Glassick, and Angela Whitehorn, this podcast excels at applying God's word to the daily life of Christians.
This podcast features "three unique, and yet unified brothers in Christ, who desire to discuss not only the deep and weighty doctrines of the Scriptures, but also how those truths apply to our everyday pilgrimage through life from a reformed perspective." This is a fantastic podcast with hosts that aim to exhibit the glory of Christ in all they do.
From the well-respected theologian and professor Michael Horton, this long-running podcast/radio show has endless content focused on helping Christians "know what they believe and why they believe it". Although the Podcast is popular, they also have a talk show, magazine, blog, and an active social media presence.
This popular Christian podcast is hosted by Joe Thorn and Jimmy Fowler. Both are pastors at Redeemer Fellowship in St. Charles, IL. While not lacking on the theological front, which is distinctively Reformed Baptist, they always mix in fun and humor.
Hosted by Reformation 21, MOS is a podcast that intends (and succeeds!) in challenging its listeners with discussion over the myriad of ideas that the church faces today. It's also highly recommended if you enjoy British accents (though arguably, as co-hosts Todd Pruitt and Aimee Byrd can testify, Carl Trueman pronounces many words incorrectly).
Featuring Dr. James White, from Alpha and Omega Ministries, this podcast/webcast is heavy on apologetics and theology. This is a staple resource for many reformed Christians. You can also watch The Dividing Line live on YouTube. Most episodes exceed an hour.
This is an outreach of Ligonier Ministries, founded by the late Dr. R.C. Sproul. Although much of what is available is repeated from previously recorded content, it is always edifying and worth the listen. Dr. Sproul was extremely gifted at taking a very complex theological subject and making it approachable for all. This Christian podcast and its content is timeless.
Coming in at number 1 for the second year in a row is podcast from Dr. Albert Mohler, President of Southern Theological Seminary. There are very few thinkers out there like Dr. Mohler. He can concisely and quickly offer analysis from Christian worldview perspectives on current events, politics, morality, and theology. With new episodes produced every weekday, it's a great podcast for a daily commute. This podcast is must-listen for all Christians, regardless of your background.
Didn't see your favorite podcast? Leave a comment and link below for others to find.