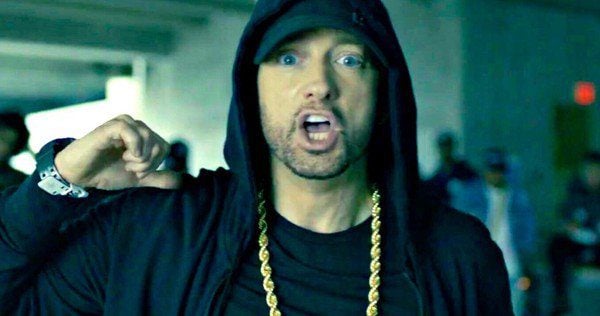 If you told me in 2002 that 15 years later, Donald Trump would be our President, Kid Rock would be running for Senate, and Eminem would become a celebrity spokesperson for human rights, I would have laughed you out of the room. This sounds more like content for a Saturday Night Live skit than reality. But here we are; truth really is stranger than fiction.
A few days ago, well-known rapper Eminem (Marshall Mathers) voiced some rage towards Donald Trump. He did so in the form of a 4.5-minute freestyle rap called The Storm, which aired on the BET Hip Hop Awards. If you are familiar with Eminem, it won't surprise you there is a fair amount of vulgarity and graphic imagery in the video. So, proceed with caution to the link above. While Mr. Mathers covers a bit of ground in his video, I want to focus on the major reoccurring theme of the video: racism.  Despite its popularity, The Storm does more harm than good towards resolving racial tension in our country.
In some of the most vitriolic lines, Eminem blasts President Trump as a "racist 94-year old grandpa". Using almost battle-like language, he demands fans to "decide who you like more" – Eminem or President Trump. Unsure what to think? Well, he speaks directly to the undecided crowd: "if you can't decide who you like more and you're split on who you should stand beside, I'll do it for it for you with this."
He then makes an obscene gesture towards the camera.
The Storm video is unfair to Trump, his supporters, and even Eminem's fans. It creates very unnecessary lines of separation. While vulgar displays of insurgence towards our President might gather YouTube hits, it does little to fix the real problem. Our society is so worn thin by racial tension, we don't need a prominent white rapper "drawing lines in the sand" on Black Entertainment Television. Aside from the irony, it obfuscates the real message and is outright antithetical to changes we need to make.
So as to not muddy the waters, I should state clearly I am not a Donald Trump supporter. I respect him as our President, whom God placed in office, but I admit he is morally bankrupt and inept to properly lead a nation. I said the same thing about Obama for that matter. I really am coming from a place of political neutrality on this issue. I don't have an agenda except to comment on how unhelpful this public rant was to deal with the nation's racial tension. I have two reasons for thinking this.
First, we must consider the source. As I mentioned above, Eminem is not known for having a choir boy persona. While incredibly talented, he has always pushed the line with his lyrics and song content. One doesn't have to look far to find examples of misogyny, rape, murder, drug usage, arson, sex, and hate-filled LGBT slurs. Often, his lyrics are outright awful and sinful; they promote the very behavior he is speaking out against here. He established himself in the early 2000's as the rapper who didn't care what the public, other celebrities, or authority figures thought. Anarchy or nihilism seemed a more likely path than a human rights activist for Eminem. The hypocrisy is undeniable.
Considering this, how can we take any of what he says seriously and with merit? I will be the first to accept that people can change and mature. But come on, Eminem might be the worst choice for a human rights celebrity spokesperson. If change is to occur, it will happen when men of established, high character speak clearly to problem, address evils, and promote unity. Contrast the public images and persona of Eminem versus the late Martin Luther King, Jr. A life of integrity offers more cultural influence than a 4-minute video of expletives. The Storm proposes nothing redemptive for the culture to gravitate towards. Given Eminem's past examples, we shouldn't be surprised.
The second reason why I fear this video is doing more harm than good is because it enlists a spirit of insurrection over conversation. Music and poetry have always been an arrow that pierces even the blackest heart with emotion. It reminds us of our human condition and calls us to be better – at least, God-glorifying art does this. Eminem's latest video is not asking for change as much as he is calling for battle. He is stirring hate – not compassion. He is pushing the opposition away instead of trying to change minds. He is making things worse.
Our society needs real dialogue about racism and its evils. We need men of sound character calling for transformation, not war. Our country's history with racism is sad, long-lived, and hate-filled, but the more we scream obscenities at the ever-moving line of offense, the less we accomplish.
The bible teaches us that in Christ all men are equal. Race is a beautiful expression of God's creativity and love for humanity. The color of skin and the roots of cultures are to be celebrated. Real change will happen when we find our center of gravity rooted equality before and under God. This is the seed that will blossom into change that makes a difference. We must all look inward toward the prejudice in the heart and nail it to the cross. In Christ, there is hope for change and cause for healthy discussions.