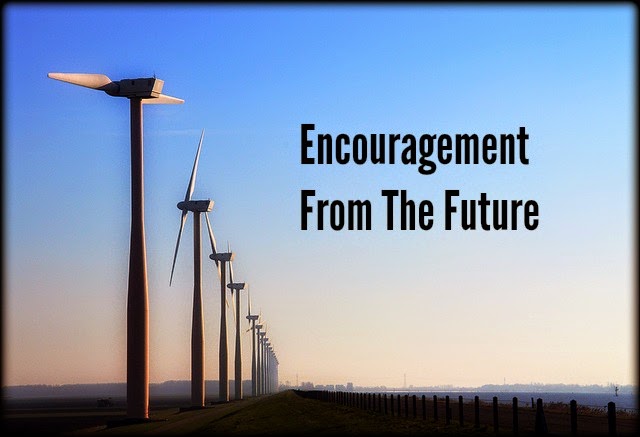 [Title Photo Attribution: Title Photo Original Source; CC 2.0]
Introduction:
There are many things in this world that can discourage us. Every single day we hear something in the news that makes us frustrated and often times even causes us to feel exasperated because the sad and negative never seem to lighten up. So, let me ask, are you discouraged by this week's headlines? Sometimes what can help us is to fast-forward to the end in order to remind ourselves of what is in store for us in the future. Here we go:
1. JOY – Revelation 19:1-10,
"After this I heard what seemed to be the loud voice of a great multitude in heaven, crying out, 'Hallelujah! Salvation and glory and power belong to our God, for his judgments are true and just; for he has judged the great prostitute who corrupted the earth with her immorality, and has avenged on her the blood of his servants.' Once more they cried out, 'Hallelujah! The smoke from her goes up forever and ever.' And the twenty-four elders and the four living creatures fell down and worshiped God who was seated on the throne, saying, 'Amen. Hallelujah!' And from the throne came a voice saying, 'Praise our God, all you his servants, you who fear him, small and great.' The Marriage Supper of the Lamb. Then I heard what seemed to be the voice of a great multitude, like the roar of many waters and like the sound of mighty peals of thunder, crying out, 'Hallelujah! For the Lord our God the Almighty reigns. Let us rejoice and exult and give him the glory for the marriage of the Lamb has come, and his Bride has made herself ready; it was granted her to clothe herself with fine linen, bright and pure'—for the fine linen is the righteous deeds of the saints. And the angel said to me, 'Write this: Blessed are those who are invited to the marriage supper of the Lamb.' And he said to me, 'These are the true words of God.' Then I fell down at his feet to worship him, but he said to me, 'You must not do that! I am a fellow servant with you and your brothers who hold to the testimony of Jesus. Worship God.' For the testimony of Jesus is the spirit of prophecy" (ESV).
This chapter, Revelation 19, describes the return of Christ. In the first ten verses, which are quoted above, a picture of heaven erupting in aticipation of Christ's imminent appearance is painted. Take special notice of the use of Hallelujah. The word means, "Praise the Lord" or "Praise Jehovah." In these first ten verses we have all of heaven praising Jesus Christ not once, not twice, not even three times but four times. Do you understand this? Heaven, the current location of holiness, offers up a fourfold "Hallelujah" regarding the very thought of Christ's Second Return. So, if heaven feels joy over what is to come with regards to Christ, how much moreso so should those of us who follow Him.
2. JESUS – Revelation 19:11-18,
"Then I saw heaven opened, and behold, a white horse! The one sitting on it is called Faithful and True, and in righteousness he judges and makes war. His eyes are like a flame of fire, and on his head are many diadems, and he has a name written that no one knows but himself. He is clothed in a robe dipped in blood, and the name by which he is called is The Word of God. And the armies of heaven, arrayed in fine linen, white and pure, were following him on white horses. From his mouth comes a sharp sword with which to strike down the nations, and he will rule them with a rod of iron. He will tread the winepress of the fury of the wrath of God the Almighty. On his robe and on his thigh he has a name written, King of kings and Lord of lords. Then I saw an angel standing in the sun, and with a loud voice he called to all the birds that fly directly overhead, 'Come, gather for the great supper of God, to eat the flesh of kings, the flesh of captains, the flesh of mighty men, the flesh of horses and their riders, and the flesh of all men, both free and slave, both small and great'" (ESV).
The returning Christ is pictured as a victorious hero thundering through on a white horse followed by the host of heaven. We have four names used of Christ in these verses and each one gives us some description and insight into part of who Christ is. Names, especially in biblical times (nicknames, titles or birth names), give us much explanation regarding the individual so named. Just as there was a fourfold use of "Hallelujah" in verses 1-10, notice the fourfold name usage in these verses, 11-18: Faithful and True (v.11), a Name Only He Knows, or A Secret Name, (v.12), the Word of God (v.13), and King of Kings and Lord of Lords (v.16). I urge you to investigate these names used for Christ in your own time. You may be surprised at some of the insight you gain regarding our Lord.
3. JUDGMENT – Revelation 19:19-21,
"And I saw the beast and the kings of the earth with their armies gathered to make war against him who was sitting on the horse and against his army. And the beast was captured, and with it the false prophet who in its presence had done the signs by which he deceived those who had received the mark of the beast and those who worshiped its image. These two were thrown alive into the lake of fire that burns with sulfur. And the rest were slain by the sword that came from the mouth of him who was sitting on the horse, and all the birds were gorged with their flesh" (ESV).
When our Messiah first came to this earth it was as a baby in a manger, but when he comes again it will be to administer justice for all. It's important to remember that being just, administering justice, includes not only judgment but reward as well. So when our Lord returns he will send those who do not believe in him to a just and fitting punishment. On the positive, those of us who do know him will be sent to our eternal reward in the most fair and just way possible. This is good news!
Conclusion:
When you turn on the TV and the stories get you down, when you pick up a newspaper and the headlines seem most discouraging, raise your chin and lift your head. Our redemption is drawing near.
This was a guest post from Dr. Jeff Hagan.
Jeff is an ordained Christian minister with over 23 years of ministry experience. He has attended Gordon-Conwell Theological Seminary, Luther Rice Seminary, Tyndale Seminary and a handful of other institutes as well. He has earned several degrees including the Doctor of Christian Education and the Doctor of Theology.