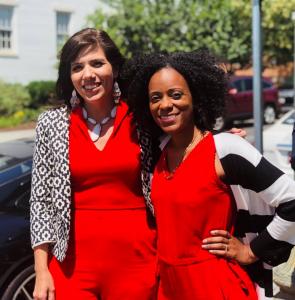 On Tuesday, the House Judiciary subcommittee on the Constitution, Civil Rights, and Civil Liberties hosted a hearing on "Threats to Reproductive Rights in America". Compelling testimonies were recorded from a panel of distinguished women representing a pro-choice majority.  However, the pro-life position was championed by Melissa Ohden, the survivor of a failed saline abortion; and Christina Bennett from the Family Institute of Connecticut. Her comments drew upon the failure of her mother's abortion appointment, America's history of racism, and the birth control industry's eugenic roots.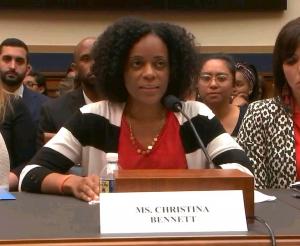 Identifying as a "Pro-Life Feminist", Bennett's advocacy for the unborn represents a unique but growing populace of African-Americans who support bodily autonomy but categorically oppose the presentation of abortion as a viable means of equitable healthcare. She says, "Black Pro-Life women are opening up about their abortion stories. Starting pro-life groups on campuses. Visiting the White House. Blogging. Speaking. Singing. Being a bright light in the dark world. I'm strengthened by their contributions to this movement and I am happy knowing that I am not alone. I'm hopeful for our future as a diverse, pro-woman, pro-life movement. It's not easy and we're misunderstood, but we are forging a path for others to follow. The ones before us sang, We Shall Overcome, but we know that won't fully happen in a world where we sacrifice our children and oppress our souls. Freedom comes from accepting our womanhood as a strength and not a burden."
View or read her congressional testimony in it's entirety here:
(Transcript)
Dear Chairman Nadler, Chairman Cohen, Ranking Member Johnson and members of the committee:
My name is Christina Bennett.
I'm the director of communications for the Family Institute of CT. I'm grateful for the opportunity to share my story with you today. In 1981 my mother scheduled to abort me at Mount Sinai Hospital in Hartford, CT. She was pressured by my father to abort and rejected by a mentor in her church who told her she wasn't welcome anymore because she was pregnant out of wedlock. She met with a counselor at the hospital who assured her she was making the right decision and didn't offer counsel on available alternatives.
A black elderly janitor approached my mother after seeing her crying in the hospital hallway. She asked her if she wanted to have her baby and when she said yes, she told her God would give her the strength to have me. When she went to leave my mother was called into the doctor's office where she saw he hadn't cleaned up the blood from the last abortion. She was disgusted and told him she wanted to keep me. He insisted she go through with the abortion and said, "You've already paid for this. You're just nervous." She repeated "I want my baby" and he yelled at her saying "Don't leave this room". She felt his anger came from fear of losing her business and those that could follow her. Yet with courage she walked out.
Children conceived less than a decade prior to my birth didn't experience the threat of death through legalized abortion. It's easy for people to say I'm glad your mother had a choice but a statement like that devalues my existence. Human lives should not be weighed in the balance of whether or not they are wanted or measured in terms of circumstances or convenience. I deserved legal protection and a right to life.
My mother's experience is similar to the experiences I've heard from women throughout this country. Women who've faced the same coercion, rejection, lack of counseling, lack of support and disgusting facility conditions. My desire to assist women and children lead me to work for years at a non-profit pregnancy resource center. There I witnessed the power of hope and the ways in which love and practical support strengthened women and their families.
Two years ago, I had a profound experience while visiting the National Museum of African-American History. I was reminded of the ways Black Americans were denied the right to equal protection and due process, treated as property and dehumanized because of the color of our skin. The museum memorialized the many ways Black Americans have been unjustly targeted and killed for centuries. While I rejoice over the progress we've made as people of color, an ache remains in my heart because of the denial of equal protection and due process to another class of people – the baby in the womb. The sacrifices my ancestors suffered, to achieve the civil rights I enjoy today are not able to protect future generations because of legalized abortion. I'm burdened that the 14th amendment which gave us liberty was unjustly used to invent a supposed right to destroy a human life. Sojourner Truth in her day said, "Am I not a woman?" And in mine I say, "Am I not a person?"Abortion is not a victimless act. We just can't hear the voices of those who've been silenced and discarded. Roe v Wade rendered 60,000,000 lives unworthy of legal protection and has led to the deaths of over 20 million Black babies since 1973.
The dark history of Planned Parenthood founder Margaret Sanger's philosophy on Eugenics and population control was recently documented by Supreme Court Justice Clarence Thomas' concurring opinion in Box v. Planned Parenthood in Indiana and Kentucky.  Today, an increasing number of Black Americans recognize this eugenic and population control philosophy that is having a genocidal impact.
Recently close to a hundred black women of influence – gathered in Charlotte, NC to protest the stealth opening of a Planned Parenthood in the city's oldest Black neighborhood.  One of them was Lesley Monet, the International Director of The Church of God in Christ's Family Life Campaign. She represents the largest Black denomination with over 6 million members'. They oppose the abortion industry's targeting of Black babies and are encouraging a movement of adoption among their members.
78% of Planned Parenthood's surgical facilities are located in Black and Latino neighborhoods. Black women such as Cree Erwin, Lakisha Wilson, and Tonya Reaves lost their lives at the hands of an abortion industry that offered them substandard medical care. Others have left clinics by ambulance, suffered botched procedures and been left with physical and emotional scars. We are tired of the targeting and lies that abortion is an answer to our challenges. 
As a pro-life feminist I support bodily autonomy but abortion always impacts two bodies. I am a unique individual who was never just a part of my mother's body. Liberation never comes through oppressing other human beings. Roe v Wade was built on lies that Norma McCorvey spent her entire life trying to correct. We can love both women and children and strive for a society that treats us all with the dignity and worth we deserve. This is true empowerment.