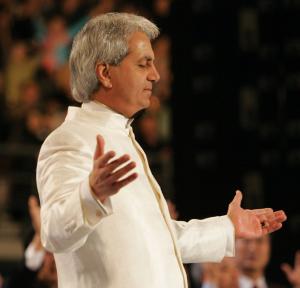 It's June 2009 at the Indianapolis Convention Center. I hear that Benny Hinn is coming to town but I have little to no interest in attending it. Then "Margie" calls my wife and I with an invitation. As one of the most precious women in our lives; she is beautiful, spiritually vibrant, and deeply passionate about Jesus. Being similar in age to what my late mother, Margie quickly became a mothering figure in my life. Praying for us weekly; her calls mean hours of long encouragement-filled conversations. She's a spiritual ball of fire, she possesses the explosive energy of a 25 year old; except for when she doesn't.
        Margie's story is as sad as it is amazing. Her wealthy ex-husband secretly tries to kill her for years, lacing her food with rat poison among other things. With mounting health problems, doctors discover levels of contamination in her blood beyond medical plausibility. With no explanation for how or why she's alive much less functioning; she's a walking miracle. After her divorce, she begins taking steps toward recovery but the extreme damage leaves her with extensive physical issues. Desperate for healing, she asks if we have any desire to go with her to the Benny Hinn meeting.
 After praying for her healing for so long, and due to the way she was standing with us; how could we not go as a support? Why would it hurt to believe for something unprecedented and supernatural on her behalf?  I am unsure of what to think about Hinn myself, but I resolve to join my faith with Margie.
THE MAN OF THE HOUR
The number of people streaming into the Convention Center is astounding with this large crowd standing alone in comparison. Thousands of sick and desperate people come limping, rolling, or being pushed into the venue. It's a jumbled scene of colostomy bags, ventilators, hospital-style beds, and wheelchairs and the atmosphere is buzzing. But, it's an odd mixture of excitement, faith, expectation, and despair.  Those in need of a true miracle clearly outnumbering those arriving in skepticism.
      At the time, we're leading city-wide prayer gatherings and I've developed many relationships with a diverse group of spiritual leaders in the city of Indianapolis. With the meeting beginning, many of these key leaders are sitting on the platform. After enduring the old-school hymns for quite some time, Mr. Hinn himself emerges to the excitement of the crowd. As the organ plays softly, he begins to set the atmosphere through song in a way that reminds me of my great grandmother. I can feel a familiar, old, and comforting anointing beginning to settle across the room. He's now preaching out of Psalm 66; about making a vow to the Lord and fulfilling the vow. Meanwhile, I listen intently with open ears and an open heart; tracking with where he is going. He begins to talk about the old sacrificial system, the priests bringing an offering before God and then heaven responding on behalf of His people.
 I eagerly wait for the punch line while Hinn talks at length about the nature of God and how we relate to Him for blessing through sacrifice under the Old Covenant. I'm thinking, "This is the perfect setup for the good news! A sacrificial offering is no longer required!"  So, I gear up for the truth hammer to drop and the nail of healing to be driven into our hearts. Unfortunately, that hit never comes.
WHAT DO YOU REQUIRE OF ME?
             "I want you to make a vow right now. Make a vow to the Lord, ask of Him what He requires from you. This is serious, don't make a vow that you do not plan to fulfill." I am searching my heart in this holy moment and earnestly asking, "Lord what do you require of me?"  Then, my holy moment is interrupted by something I can't believe I am hearing.
"I'm going to invite you to come to the altar but we're going to do it this way. If you made a $10,000 vow to the Lord, hold your envelope in the air and make your way to the altar. Press your way through crowd. Sow your seed in faith. If you don't have the money in the bank account, use your credit card. Trust God. He won't tell you to make an oath that He won't give you the grace to fulfill. Next, if you are making a $5,000 vow, come to the altar."  The procession continues as the poor and the desperate make their way to the altar; no doubt giving all in a reach for a supernatural touch from heaven.
Content with biblical compromise 
                     The fire of God is burning hot within me. I look around the room, desperately searching for someone and trying to make eye contact with anyone else in the room. Is anyone else as disturbed by what's happening as me? I see some local leaders who are friends of mine; sitting on the platform. They are seemingly completely at peace. It seems they are content with biblical compromise in order to say that they have shared a platform with "Benny Hinn". As the pilfering continues, my spirit is about to explode out of my skin. Then it reaches a giving level that is accessible to Margie so she begins to make her way to the front. At this point I can't allow it. I grab her and say with authority: "Margie, we are leaving now!"
She doesn't understand but as I grabbed her and my wife by the arms, she knows that there is no convincing me otherwise. We make it out into the hallway of the convention center when I realize that there is no way I can allow this to continue. I must at least warn the people inside, so I encourage Margie and my wife to go to the car. Then, I turn around to go into the convention center and raise my voice regardless of what the consequences might be. Scared, my wife begs me not to go back in but it's too late.
A MOMENT TO CONFRONT
                  I quickly make my way back to the very front of the crowd near the altar. Mustering all of the fire of my spirit and the strength in my voice; I proclaim at the top of my lungs: "This man is a false prophet! This man is a false prophet!"  The surrounding crowd gasps in confusion. Pastors and ministry leaders glare at me in horror and disbelief. They are most likely embarrassed that they know me. As security descends upon me to begin dragging me out; one of the pastors rushes over and asks them to stop for a moment so he can speak to me. He exclaims, "You're out of order! JT what's wrong with you?"
  I tell him that Benny Hinn has not preached Jesus. That he is not preaching the Gospel of Jesus.  Jesus is the fulfillment of the Old Covenant and he's become the perfect sacrifice for all of us, purchasing our salvation, healing, and deliverance on the cross. As a result, our healing was paid for through the stripes upon His back. Now all who are hungry, weary, thirsty, and oppressed are welcome at the altar to receive the free gift of salvation and healing that flows from Calvary. I don't have time to say all of that, I simply say that Hinn never names Jesus as the Sacrificial lamb and he's fleecing the flock.
This pastor says, "Son, you're a young man and he's preaching things that are over your head. What moves God?" At this particular moment, I'm deeply under the influence of the Holy Spirit. The answer bursts out of my mouth before really even pausing to consider the question: "Love!" The pastor, somewhat startled mutters:  "No..No…that's not it. What REALLY moves God?" I reply, "Faith? You're expecting me to say faith?  He zealously replies, "That's it! Faith moves God!" At that point security drags me out.
"For God so LOVED the world, that He gave His only begotten Son."
(John 3:16)
Hebrews 11 is a powerful narrative of what faith empowers man to do. But scripturally, faith never identifies as the source of empowerment for God. The most revealing source of the Father's motivation in any action toward humanity is found in the most popular verse of the Bible. John 3:16
says,
For God so loved the world that He gave His only begotten Son.
It's the love of God that moves Him to act on our behalf in times of trouble. We see this theme of immutable love established throughout the old testament and through the book of Revelation; culminating in the beautiful marriage of the Bridegroom and His Bride!  Love moves Him, while our faith in that unmatched and unfailing love, moves us!  
 6And so we know and rely on the love God has for us.  God is love. Whoever lives in love lives in God, and God in him. 17In this way, love is made complete among us so that we will have confidence on the day of judgment, because in this world we are like him. 18There is no fear in love. But perfect love drives out fear, because fear has to do with punishment. The one who fears is not made perfect in love.
(1 John 4:16-18)
The Prayer of Faith to Bless your Enemies
   That night I'm equal parts furious, frustrated, and disappointed. I decide at first to write about my experience, do videos, and do whatever it takes to let the world know; to wage war on this man's ministry. But before I do that, I feel the leading of the Holy Spirit to reach out to Bob. He's a mentor in my life who is a true spiritual father and one of the most godly men that I know. I recount the whole experience to him and he calmly says, "Wow. If what you are saying is true, then something is terribly wrong and we have to pray for him."
He then recounts a time where he and Hinn are in another part of the world together many years earlier. Bob shares about the humility that Hinn walks in and the truly divine grace on his life. He strongly encourages me not to take to the warpath but rather to the prayer path, and not to conclude yet that he's false prophet. He says, "Benny is a uniquely anointed man, possibly entering into deep error due to a sin issue.  But God can restore him. We must pray for him." So he begins to pray fervently. I call Margie, and she prays fervently. It was tough at first, but I also begin to pray for him and truly desire for something to shift.
HINN REPENTS PUBLICLY
                Several months later, Margie calls me in great excitement. "Did you catch the show on TBN?" I tell her that I didn't. "God has answered our prayers!"  She then relates that Hinn is issuing a public apology because his marriage is in trouble and his ministry experiencing financial strain. Due to these personal struggles, he has manipulated people financially through the Word. He therefore is repenting before God and man.  This is astounding to me. In that moment I learn that even the most Godly can fall into deception; yet God is faithful to restore those who truly seek to please Him.
 In the ten years since this happened, I wondered if any real change happened in Benny's heart or if he simply had a brief moment of repentant clarity. Because wisdom is personified by her children, my assumption was the latter. I've seen many young false prophets emerge in church culture either with his blessing, or with the appearance of his blessing. They model their ministries off of his template hosting gatherings in hotels, convention centers, and arenas. They plaster their names on billboards, emerging on stages in flamboyant "holy" attire and operating in miraculous power. However, I know enough about God's heart for people to know that He moves through people in spite of them, even those whose motives are impure.
NEW MERCIES
           Just recently, Mr. Hinn has publicly renounced the heretical theology which was clearly on display that night in Indianapolis ten years ago. His confession and turn away from it seems sincere. If authentic, it is encouraging to know that God is answering the prayers of many on his behalf. With this new moment of public transparency, I finally feel that sharing my own encounter could be helpful. Ironically, I've now been on the platform ministering at two events where he was also on the platform. In each scenario, I've gone out of my way to avoid contact with him. This is partly because i've had no interest in meeting him or navigating through his security detail.  It's also due to the fact that I've been unsure whether my heart is fully free from the twinges of offense i've felt toward him in the past. I'm a work in progress.
Back then, my zeal was righteous, my judgment accurate, and my actions just. I just needed some guidance to understand how intensely our human brokenness can mingle with the anointing on our lives. I'm thankful for having a more mature leader in my life that could provide context and guidance before I came to a final conclusion concerning Benny Hinn. Let me state clearly, I do not believe that Hinn is a false prophet. I do believe that he is an anointed yet broken man just like me who is desperately in need of God. Because of that, God is correcting his theology just as he is correcting all of our theologies. I'm sobered by the fact that any one of us are just inches away from falling into similar error. As a result, the fear of the Lord should be upon anyone whom God entrusts with stewarding the mysteries of the Kingdom.
This entire situation has been a major example of how mercy trumps over judgment. Many are responding with questions concerning whether Hinn will pay back any of the money that was unjustly taken. I have no idea what justice is supposed to look like in a situation like this but Jesus is just. I'm also confident that He is merciful in all of His dealings with mankind. Today, new mercies are extending to Hinn and to the entire Body of Christ from the throne room of God. For this we should rejoice and choose to bear with him in the hope of redemption. May we be merciful, hopeful, and  joyfully encouraged that God is completing the good work that he began in Benny Hinn and the Church. He will faithfully complete His work within us even if it takes several more divine interruptions.