In John 6, Jesus tells his followers that He is the bread of life. Whoever comes to Him will never be hungry, at least not in a spiritual sense. As long as you're feasting on the Word, you'll be full of grace, love, and gratitude.
However, you and your fellow Christ followers will still experience physical hunger, especially if you don't prepare enough food for your weekly Bible study. Use the recipes below to inspire your inner chef and feed your friends. Odds are good you'll be able to focus a lot better when your stomachs stop grumbling.
1. Slow Cooker Lasagna Soup
Fall is right around the corner, and so is soup season! Warm up your guests and foster a sense of community by sharing a big, steaming pot of slow cooker lasagna soup. Melty cheese, rich sauce, and thick noodles make this dish an ultimate comfort food on chilly autumn nights. Plus, you can tie it in with Biblical themes like fellowship or stories like Jacob and Esau, which includes details about warm red soup.
Place the beef, broth, sauce, onion, garlic, seasoning, and parmesan rind in a 6-quart pot or slow cooker. Cover and cook on high for 4-5 hours or simmer for 7-8 hours. Then, add the noodles and heat for an additional 20-25 minutes. Discard the rind, ladle the soup into bowls, and top with ricotta, mozzarella, and basil.
2. Famous Maine Lobster Rolls
If Jesus' diet has inspired you to serve up some seafood, look no further than these famous Maine lobster rolls. Don't worry; they're easier to make than they sound, especially if you purchase out-of-the-shell lobster meat. Plus, its buttery flavor is sure to be a big hit among your Bible study friends.
Want to keep things simple? Stick with the classic Mainer recipe by stuffing the meat into hoagie buns with a bit of cold mayo. Connecticut lobster rolls are a bit different, as they're served with warm butter. Offer guests both options and provide additional toppings like bacon, sriracha sauce, lettuce, and cheese. That way they can customize to their hearts' content.
3. Classic Fish and Chips
The book of Matthew contains dozens of first-hand accounts of Jesus' miracles, but the Feeding of the 5,000 has to be one of the most popular. This inspiring story is found in Chapter 14 and recounts Jesus' miraculous multiplication of fish and loaves. Needless to say, it makes for great discussion at a Bible study, especially if you have your own fish and chips to go with it.
Use a thick white fish for this recipe and fresh lemon juice to take this dish to a whole other level. Dip each fillet in made-from-scratch beer batter and fry to golden perfection. Meanwhile, slice the potatoes and fry them in batches until they're crisp. Take a hint from Jesus and make a little extra just in case more guests show up.
4. Mediterranean Quinoa Salad
Most Bible scholars believe that Jesus maintained a Mediterranean diet during his time on Earth. Like many others in the Middle East, the son of God likely enjoyed a variety of fresh vegetables, fruits, grains, and legumes, not to mention plenty of seafood. Maybe He even ate something similar to this quinoa salad. Regardless, it makes for a delicious main or a healthy side dish depending on how big an appetite your guests typically bring.
Make the garlicky balsamic dressing while the quinoa cooks. Then, add arugula, chickpeas, roasted red peppers, olives, and feta to a bowl. Allow the quinoa to cool before gently tossing it into the greens. Dress up the dish with olive wood utensils and a generous drizzle of dressing. Remember to snap a few pics of this colorful salad before serving it up and digging in.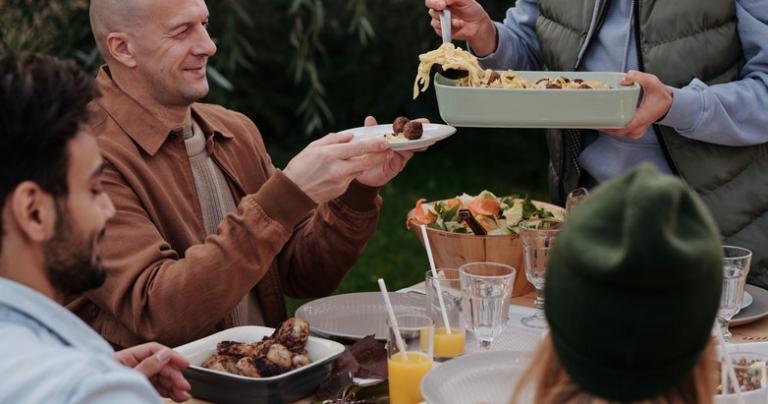 5. Mamie Eisenhower's Chocolate Fudge
You don't have to serve dessert to host a great Bible study, but it certainly helps! Indulge your sweet tooth and send your friends off with a tasty treat by whipping up a batch of Mamie Eisenhower's iconic chocolate fudge. This recipe has stood the test of time to become one of the best fudge recipes ever. Plus, it doesn't require any baking, so you can easily prepare it ahead of time.
First, stir the semisweet chocolate, German chocolate, and marshmallow cream together in a large bowl. Bring the sugar, salt, butter, and evaporated milk to a boil in a separate pan. Reduce the heat and simmer for 7 minutes. Pour the steaming syrup over your choco-mallow mixture and stir until smooth. Add the nuts and mix again. Then, pour it into a baking dish to chill for at least a few hours before guests arrive.
Taste and See
Psalm 34:8 invites Christians to taste and see that the Lord is good. Thankfully, that same God has blessed you with tastebuds so you can enjoy various other flavors, too! So branch out and try something new. Just don't be surprised if your friends ask you to make something every Sunday!