Creating a space in your church that appeals to younger people can be tricky with limited resources. Teens like to be in environments that reflect maturity and fun. An outdated game room will become a space no one uses or knows about.
Most of the time, the youth rooms get little attention with outdated posters, furniture and old games no one plays anymore. Since this is a place you want teens to enjoy hanging out in, here are five easy ways to enhance your church's game room.  
1. Utilize the Space
If the room is primarily used for games and hanging out, make sure the items inside reflect this purpose. You can strategically place couches near a TV for lounge space, fit pool tables or checkerboards in a room and include other seating areas for chatting and studying. 
Think of the room as if each section is meant for something specific. For example, one area is for socializing and one spot is for playing games or reading. The furniture and materials should reflect the function of the area. Start by making sketches or marking off areas in the room to get the ideas flowing. 
2. Use Color
Color and paint are easy and inexpensive ways to make a room look brand new. Color has the power to change the whole vibe of a space. Poor color choices can make the room look bland, while bright wall colors will light up the room.
Picking the right color includes old furniture, too. Couches can look old and out of date with drab beige colors. Use leather repair kits designed to paint leather, vinyl and plastic to get a high-quality new look. Certain products dry in 45 seconds, so it takes little to no time to repair. This small change lets you update an old couch and save the cost of buying new seating. 
When it comes to color for design and decoration, you should research trendy looks and find what works best for your space. For example, orange is a color that radiates vibrancy and fun. Since it's so bright, you don't want to overdo it — but you can use it for pops of color around the room.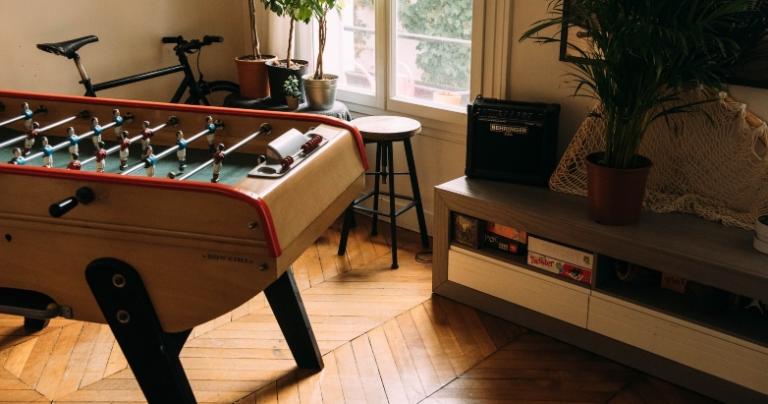 3. Clear Old Items and Clutter
Games rooms shouldn't look like a space filled with old games and outdated toys that no one has used in years. Items that have been donated over the years can make the place look cluttered and outdated. You can get shelves or donate things that aren't getting as much use to clean up your room at little to no cost. 
If things get misplaced, be sure you or someone else checks up on the space, so it stays a clean and organized environment. When you notice certain items aren't being used, as much local shelter or Goodwill is a great way to donate those items.
4. Add Technolgy
Although technology can be expensive, it's a regular part of the world now. Adding it to youth rooms will create an atmosphere that draws people in since watching a sports game on the TV or playing games virtually is fun and convenient. This entertainment lights up the space and can act as a decoration when not in use. 
These days, a TV is just enough to bring the space to life and doesn't cost a fortune. It can be used for music, watching shows and even displaying announcements. If you want to take things to the next level, smart technology can connect all of your devices so your church is even more in sync. A moderate amount of technology will be enough to spice up the room. 
5. Include Decorations
Decorations are a great way to take a room to the next level. You have many beautiful choices, from standard decor to items with inspirational bible verses on them. While you don't want to overload the space with too many details, you can choose a couple of posters that resonate and looks aesthetically pleasing.
You can also put the church logo or graphic as a focal point on one of the walls. It can be painted using a stencil or can get one made out of wood, metal or plastic. 
Get Started Today
You can start brainstorming ideas today on transforming your church's game room. Putting time and effort into making this a place kids want to hang out can completely change the environment. With a couple of minor improvements and changes, you'll have the place looking brand new.