Here's a sermon for you, preached on February 12, 2023 at St. Paul's Episcopal in Oakland, California. Enjoy!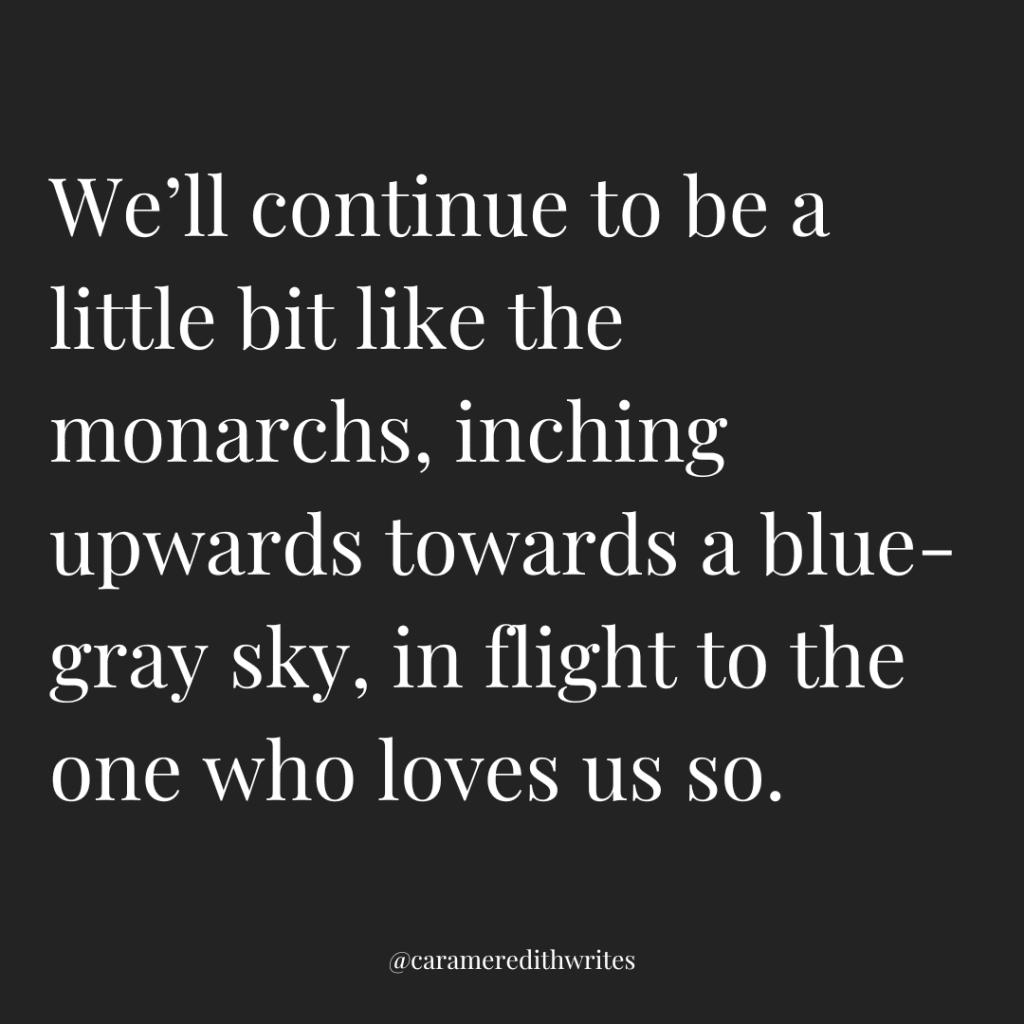 A month or so ago, Garden Club met on our front porch.
Garden Club is just as it sounds: a club for people who love gardens, who live in our neighborhood. I'd go on these walks with Rufus, the dog, and always noticed the front yards with raised vegetable beds or succulent displays, perfectly-trimmed rosebushes or walkways lined with tulips. Sometimes I'd talk to the people who cared for those gardens – eventually, one of those people agreed that it'd be really fun to get everyone together and talk about our gardens. And so, garden club began.
But last month's meeting didn't involve a meal around the table like it usually does; instead, it involved lounging on the front porch, swapping seeds and spooning dirt into cardboard egg cartons. One neighbor brought a bag of Meyer lemons, another a tray full of artichoke and strawflower seedlings.
And then there was the neighbor who carried a mesh butterfly cage up our front steps.
"I thought the boys would enjoy these!" she said to me. Five monarch chrysalises hung from the top of the enclosure, strings of gold against the light green pupa.
My eyes got teary. Who does this? Who thinks of this? Although she and I share a love of gardening, we barely know one another. But apparently, she knew me well enough to know this would be appreciated.
Over the next week and a half, the chrysalises were the first thing the boys visited when they woke up in the morning and in the afternoons when they got home from school. Before bed, they stared at the mesh enclosure until their eyes grew tired and sleepy, watching, waiting, hoping.
And then, it happened: Joey, Flappy, Carnivorous, Orangey, and Five (as they were later named) emerged from darkness into glorious, monarch-butterfly light.
Each time a chrysalis broke open, we trapsed down the stairs to the backyard. We opened up the flap and watched as the butterflies inched upwards, hopping across sticks of milkweed before darting into a blue-gray sky.
Some of them flew away within minutes, others took hours, one of them a few days. But all of them chose life.
Of course, it's this idea of choosing life that we find in this week's lectionary passages.
The gospel reading stands on the side of life, in as much as topics of murder and judgment, adultery, divorce, and vow-making can. One might argue that the passage in 1 Corinthians chooses life when we are reminded that God is the one who gives growth, just as Psalm 119 sings of a happiness for those who walk in God's way, who choose God's path of life.
But the Old Testament scripture was really about choosing life.
At first glance, it's easy to read the passage and think that these words from Moses pose a simple proposition between life and death: "See, I have set before you today life and prosperity, death and adversity," we read in Deuteronomy 30:15. Given the choice between death and life, most of us, I think, choose life.
We know that death and life is all around us, but given the opportunity, we choose the path of life. Caterpillar to chrysalis to butterfly, we can't get enough. Life, life, life! We shout, and really, it's true. We can't get enough of transformation, of life bursting out and upwards, up into the sky.
We participate in Friday Night Walks here in Oakland, in an effort to curb gun violence in the city we love. We do this because we believe in life. We host Saturday services in honor of Absalom Jones, a man who founded the first black Episcopal congregation – who purchased his wife's freedom so their children could be free, who was ordained ten years after applying and being granted his own freedom from slavery in 1784. He did this because he believed in life.
But a mere question of life or death was not actually what Moses is saying to the people. Instead, this statement, found in the last chapter of Deuteronomy, has more to do with everything the previous 29 chapters taught. Life, in this context, points to an "obedience to God's torah (teachings) and [a] loyal worship of God."
This is what it means to choose life; this is what all of life involves.
If we look further into the text, we see that life is spelled out in two different places, through two different triads. Verse 16 breaks it down into three main verbs: loving, walking, and observing. Choosing life means loving God, walking in God's ways, and observing God's commandments. Likewise, verse 20 includes three similar verbs: loving, obeying, and holding. Here, choosing life means loving God, obeying God, and holding fast to God.
Now, I know, the high school English teacher formerly known as myself loves to nerd out on things like nouns and verbs and adjectives. Give me the parts of speech or a jazzy rendition of "Conjunction Junction" and I am in a happy place – but I recognize I may be alone in this love.
When I read this passage, though, I am reminded that choosing life includes active, in the moment doing verbs. Choosing life is a whole-body experience – after all, the act of "loving" (which was the only repeated verb in both triads) involves every part of us – our hearts, our minds, our souls, and our strengths, one might say.
To the Israelites, "Love is depicted as a whole person experience involving heart, the seat of intelligence and conscience," one theologian writes. Loving God is not necessarily about one's emotions, but it's holistically about one's body. Maybe like you, this is part of what drew me to the Episcopal Church: we embrace our whole body when we sit and when we kneel, when we cross ourselves, and when we walk forward. We participate in a holistic experience of loving God when we speak prayers that have been prayed by thousands of tongues for thousands of years, when we greet our neighbors with a holy kiss, when our noses and our ears take in the smells and the bells of this holy place we call home.
Ours is a whole-body experience in loving God – and in loving God, we are choosing life.
Of course, if you're counting, four verbs remain: walking, observing, obeying, and holding. I wonder if it's as simple as this: "we follow God's voice as we walk. We cleave to God by keeping God's commandments."
This is how we choose life.
This is how we live.
So, what does this mean in our ordinary, everyday lives, when we step outside the walls of this holy building?
I don't think it's too different: we love one another as ourselves. We call one another by name. We make an effort to remember names.
If you're not great about remembering names, do what a former neighbor of mine did: start a Note in your phone or in a small notebook. Write down people's names, along with a reminder about them when you meet them. Do this at church, at work, in your neighborhood. See if it makes a difference when it comes to calling people by name.
We can also practice loving God by showing up. When we walk, we can follow still God's voice: when someone comes to mind, we can throw a little arrow prayer heavenward. We can shoot them a "thinking of you" text later.
We can cleave to God by following God's commandments: when something on the news breaks something within us, we can choose the side of justice and good. We can stick up for what is right. We can speak out against hate.
Whatever it is for you, for me, for us, I have a feeling we will continue to choose life.
We'll continue to be a little bit like the monarchs, inching upwards towards a blue-gray sky, in flight to the one who loves us so.
Amen.