There are 9 books in the Conversations with God series, and Neale has published 28 books in all, including texts offering commentary and observations on the CWG dialogue, which spans over 3,000 pages.
His most recent books include When Everything Changes, Change Everything, a powerful combination of modern day psychology and contemporary spirituality; The Storm Before the Calm, a look at the remarkable changes that are occurring on the planet right now and how they can be negotiated from a spiritual perspective; and The Only Thing That Matters, an exploration of the true purpose of our existence, the Sacred Journey of the Soul, and how our physical and spiritual aspects may be melded in a way that produces a remarkable experience of life.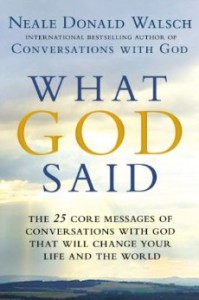 Neale's newest book is scheduled for release in October 2013 from The Penguin Group. Titled What God Said, it is a long-awaited summary of the major messages of the Conversations with God books, together with specific suggestions for the practical application of those messages in every day life. The book may be preordered here.
A full length book, The Holy Experience, describing in detail how one can live life as a holy and joyful encounter, may be downloaded for free here.