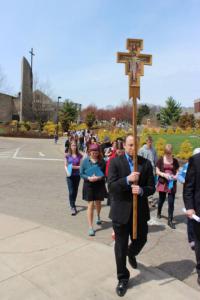 In a year in which we've begun to ponder that what is most dear to us is Christ Himself, we can't not desire – with our whole hearts – to imitate Him, to follow Him, to follow Him in this stupefying fact which leaves us speechless: that He loved us gratuitously. We can't not desire to follow Him in His charity. This year, let's help each other so that our spirits join ever more closely to His. His Spirit has come down upon us; it comes down upon us each and every day because He has called us to be clothed with it. This year, therefore, let's consider as our most pressing concern in our relationship with Christ the imitation of His charity.
Monsignor Luigi Giussani
Since 2006, some friends and I have been organizing an annual Good Friday Way of the Cross in Steubenville. Our Via Crucis follows the same readings and prayers as the Way of the Cross over the Brooklyn Bridge, as well as all the other Good Friday commemorations organized by members of Communion and Liberation, around the world.
During our first year (in 2006), we walked behind the cross through downtown; we had asked our bishop for permission to end our procession at the cathedral, and not only did he grant permission, he told us that he intended to join us. After that, Bishop Conlon joined us each year, as a humble participant and not as a leader (or in any formal capacity) until he moved on to another diocese.
The following year, the chaplain at Franciscan University asked us to please organize the Way of the Cross up on campus. Though doing the Way of the Cross downtown has many advantages, we felt that we should accept this request because invitations have a sacred dimension and always echo something of the request made to Mary. We have found it best to say "yes" as often as possible.
Since 2007, then, we have walked the Way of the Cross at Franciscan University, beginning at noon in Christ the King chapel, doing a long loop through campus, and ending back at Christ the King. If you are in the area, won't you come join us?