"Imagine a world without encouragement," empowerment, or even support. Leadership is an absolute channel to encourage an organization, your community, and/or a society who may feel morally bankrupted. Today, leadership can be a self-proclaimed role – achieved through academia, a social organization, or someone who has a high emotional intellect based on life experiences. In any case the individual, community group or organization should have the "will and ability" to encourage you.
What is encouragement? Google defines en·cour·age·ment /inˈkərijmənt/ as a noun, it is an action of giving someone support, confidence, or hope.
There are many situations in need of support, confidence, and hope.  Who are the ones, in need of encouragement?
A millennial generation that has experienced spiritual, mental, and physical abuse over the last 15 years.
We have grown men (boys) preoccupied with "bro-mancing" being a #BFF to one another ~ not encouraging. When there are beautiful Sisters with responsible guardians (where applicable) waiting for an honorable approach or inquiry, for the hand of an eligible and  wise woman.
There is a large scale of decision makers and professionals who cannot properly relate to community issues… such as; domestic violence, mental health, domestic terrorism, or colonialism – who also need encouraging.
I ask you who gives you the encouragement, that moral uplift to survive and navigate those challenging situations and social traps? I used to rely on Hip Hop, but since July 3, 1998; it's been His Speech that this Traveler relies on. "Establish weight with justice And fall not in the balance" (55:9.) A wise and direct action for mankind to develop and establish our lives on a pious principle, and interactively utilize our core values for self-care.
A leader has a direct opportunity to guide communities into solidarity and build bridges, on social responsibility. Someone who can implement an ethical balance between communities who have been made to feel powerless and inadequate. "Power is the product of relationships" (PICO Principle.) Mostly every young person, and community member are asking for righteous relationships with leaders who can wisely encourage life's Next Steps.  The wisdom of encouragement, is guiding one another around the negative consequences of "Envy and Arrogance." Being arrogant or envious only breeds a deeper more envious – arrogant ideology, and it will dismantle the moral power of an encouraged group. Subsequently, it will also deteriorate its users' mental and position themselves into a mindsight of solitaire.
Solidarity is not one tribe standing alone for others, but in Urban-U.S.-Grassroots context ~ #SolidarityIs all tribes in a solidified position, facing oppositions of injustice and inequality – together. Within each tribe there are individuals who should
encourage
the people through society's perils and avoid any false traps of entitlement, back-biting, and those distrustful unity breakers. Encourage the people to keep that kinetic synergy of moving forward, intact, and trustworthy.
If you have assumed a leadership role, then ask your constituency for honest advice/feedback on your performance and avoid assuming their needs. Having the best intention to serve is a vital asset of making an intention. May your volition resonate with those you represent and cause a butterfly effect of encouragement throughout communities to enjoin that wise action. Now imagine a world with encouragement, empowerment, and support. What does encouragement, sounds (feel) like to you?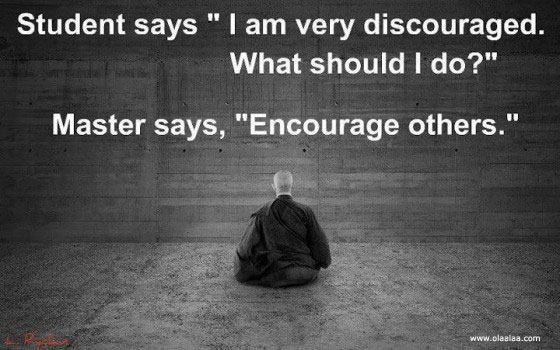 Wisdom Wednesday are thoughts for social conversation and the sharing of honest opinions, ideals, and Wisdom. All of us have a value worth sharing; hopefully it may motivate someone to stop, continue and/ or begin a certain a positive action for personal development