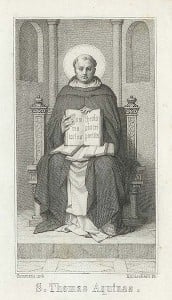 We're blogging through St. Thomas Aquinas' Compendium Theologiae, sometimes called his Shorter Summa. Find the previous posts here.
If you've been paying attention then Thomas' next move should be unsurprising.  First, Thomas showed that God is simply One.  Then he showed that God has intellect; and that His intellect is the same as Himself: we approach some small understanding of God by considering His intellect as a distinct thing, but God is without part: He is all One.  Lastly, Thomas has shown as that God has volition, or will…and so now it's time to show that God's will is part and parcel of God simply speaking, and in particular that God's will is identical to His intellect:
Evidently God's will cannot be anything other than His intellect. For, since a good that is apprehended by the intellect is the object of the will, it moves the will and is the will's act and perfection. In God, however, there is no distinction between mover and moved, act and potency, perfection and perfectible, as is clear from the truths we have already gained. Also, the divine intellect and the divine essence are identical. Therefore the will of God is not distinct from the divine intellect and God's essence.
A human being sees, then understands the situation, then wills a response; these are in succession.  In God there is no succession; these are all one single action.  To understand, to will, and to do as God does is simply to be God.  God
is
,
knows
, and
does
all at once.
Another consideration: among the various perfections of things, the chief are intellect and will. A sign of this is that they are found in the nobler beings. But the perfections of all things are one in God, and this is His essence, as we showed above. In God, therefore, intellect and will are identical with His essence.
Thomas has shown that the good things in the creatures around us are found in perfect form in God; and all of these perfections are one in God.  Intellect and will are perfections of the higher creatures (human beings and angels), and so must exist pre-eminently and perfectly in the simplicity of God.
photo credit: Public Domain; source Wikimedia Commons