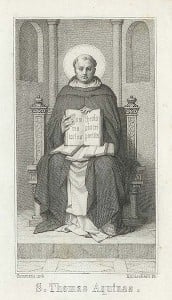 We're blogging through St. Thomas Aquinas' Compendium Theologiae, sometimes called his Shorter Summa. Find the previous posts here.
In the previous chapter, Thomas showed a way in which we can say that the First and Second Persons of the Trinity are related as Father and Son; and he clarifies his usage in this chapter:
Hence in the rule of Catholic faith we are taught to profess belief in the Father and Son in God by saying: "I believe in God the Father, and in His Son." And lest anyone, on hearing Father and Son mentioned, should have any notion of carnal generation, by which among us men father and son receive their designation, John the Evangelist, to whom were revealed heavenly mysteries, substitutes "Word" for "Son," (John 1: 14) so that we may understand that the generation is intellectual.
There are two important points here.  First, the terms Father and Son, as applied to God, must be understood analogously—like all terms we apply to God.  And second, Thomas isn't simply making things up.  The notion of the generation of the Son by the Father as a kind of intellectual generation is implicit in the opening of John's gospel.
____
photo credit: Public Domain; source Wikimedia Commons