I'm a bit late in getting around to this, but I wanted to offer up a plug for a great new resource: the Dictionary of Christian Spirituality, edited by  Glen Scorgie (general editor), Simon Chan, Gordon T. Smith and James D. Smith. The book recently was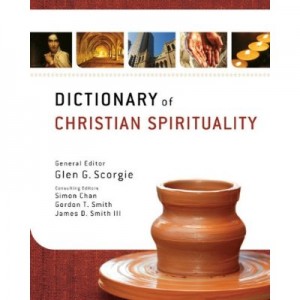 announced (this spring) as the winner of the Christian Book Awards' Bible Reference category. I'm proud to call both Glen and Jim colleagues of mine (they teach at Bethel Seminary's San Diego campus, where those of us in St. Paul wish we are when January rolls around). The book is an impressive collection of authors covering a remarkable range of topics. It's organized under two main sections: (1)  a series of 34 integrative perspective essays on topics such as Old and New Testament foundations, spirituality in community, education and spirituality, eschatology and hope, Jesus, the Holy Spirit, and various historical perspectives,  (2) a collection of 700 or so alphabetized entries on a vast array of topics related to Christian spirituality.
Like most theological terms, "spirituality" is a tough concept to nail down. I suppose that makes sense, since the Spirit "blows where it pleases." But too often, spirituality is a term that's used without much thought and can be drowned quickly in a sea of abstraction or slippery sentimentality. This book provides a resource of hard thinking about integration around important topics related to spirituality, from a broad, ecumenical coalition of pietistic, evangelical perspectives.