We have been periodically watching the Olympics over the last week.  I particularly like watching beach volleyball.  I am a beach aficionado  but not nearly in the same ways as these amazing athletes.  The sand is apparently 18 inches deep at the venue at the Horse Guard Parade in London.  Oh, what joy to plant my feet in 18 inches on an Atlantic Ocean beach with a good novel, the umbrella, a cool drink (responsibly water!), a day in front of me…..and, oh, yes, with my husband.
I watch in amazement at the skills and quickness of the players.  I often wonder about their partnerships.  What kind of trust and camaraderie have been built over the years that enable them to play in such a way?  Of course, two of the most exciting to watch are Misty May- Treanor and Kerri- Walsh Jennings, going for gold in their third Olympic games.  I know enough of their stories to fuel my respect and admiration:  come back from injuries and surgeries;  having and raising children;   a deep, abiding friendship; and a tenacity to win and keep going.
In an interview last week with Kerri Walsh-Jennings, a journalist asked her about their uniforms and whether or not they bothered her.  You have seen them:  scant, bikini "and them some" clothing in which they play their sport.  During these games, they have had other clothing because of the cooler weather but for the most part, the bikini-like uniforms have been the norm.  Kerri  responded that they were their uniforms, apparently the official ones required by the governing board of beach volleyball, and they were there to play their sport and to win.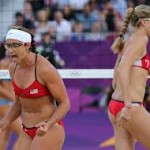 So, a couple of things:  what about the "boy's" uniforms?  They all seem to wear baggy, almost knee-length shorts with a tank top.  Most of us don't look forward to seeing men in speedos.  But why the sharp contrast between required uniforms?  Does the uniform really matter for the ability to exercise the moves necessary for winning a set and game?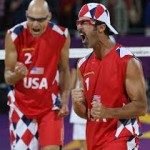 I admit that this stark difference in required clothing is disturbing.  On one hand, some feminists might criticize the women volleyball players for participating in their own oppression by accepting that these are "just" uniforms.  On the the other hand, it is "just" a game that requires winning. And the strength required for winning game after game transcends the limitations for required uniforms.
Like many aspects of life, these issues are complicated and complex for both "boys and babes" whose  images are very much constructed and constrained by the uniforms chosen for us in our respective cultures and those we choose to wear.  While not definitive for how we play our games and pursue our goals, they are noticed by those who watch us and make judgements about what they see.  And women seem particularly targeted by our cultural clothiers who work really hard to construct an image of the ideal woman.  So, the uniforms matter.  And if they truly matter, the standards  for the "uni"forms would apply to boys as well.   Let's ask the boys whether or not they are constrained and constructed by what they wear.