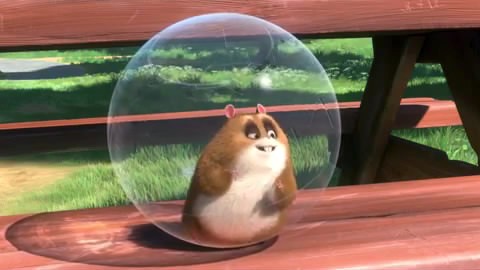 We evangelicals who care about the arts tend to operate in a hamster ball. Protected by our Christian worldview and our theologies of art and culture which fuel our work, we scurry about the artistic and cultural landscape able to apply our worldview and theology to everything we see. The fact that we see it gives us the illusion that that we're in it, "engaging," "transforming," or being "faithfully present." But the reality is that we are completely irrelevant and cut off from it. We're not bearing cultural witness. We're merely satisfying ourselves, justifying our theological conversations in the seminar room or the Christian organization, with little understanding or even desire to understand what is actually happening on the ground in the artistic and cultural landscape over which our little hamster balls trod. And while we hustle about, working for the kingdom or Shalom, we're talking, interpreting and critiquing incessantly—but it's only for our own consumption. Our little theological hamster balls isolate rather than reconcile. Given the state of evangelical involvement in the arts and culture throughout the twentieth century, the hamster ball is a decided improvement; it has been formed by Christian arts ministries, arts and culture programs in Christian schools, theology and the arts programs, and other networks, institutions, and organizations. All very good things.
Yet it is not quite gospel.
Jeremiah tells the exiled Jews to seek the good of their Babylonian neighbors—for that is from where their blessing will come (Jer 29:7). And Jesus tells his disciples that the harvest is plenty, but the workers are few (Matt 9: 37). But to seek the good of our neighbors, to roll up our sleeves and get into the fields, we have to get out of our hamster balls. Although they help us see (and control) the world around us, our little hamster balls don't let us hear a thing. We have no idea what their conversations are about, how they understand the meaning of their work, and so our theology can never be tested on the ground and in response to the practical, everyday concerns of artists and other culture makers. A theological approach to art or culture that does not first begin with the conversations that are taking place among artists, that start with them not us, serves only to build evangelical institutions. Surely, however, shouldn't we be distinct, antithetical, be "in" the world but not "of" the world (Rom 12:2)?
I'm not so sure.
To be salt and light means that we are not the end but merely the means. Salt makes the food tasty, light makes what it shines on visible. Salt and light dissolves into the culture for its good (not its judgment or critique). To seek the good of the city, to go into the field, to be salt and light, to love our neighbor, are all risky endeavors because they threaten the security and safety of our airtight Christian world views, our preconceived opinions about modern art formed in seminary when we read Schaeffer's Art and the Bible or Rookmaaker's Modern Art and the Death of a Culture. What if our theology changes? Indeed, stepping outside our evangelical hamster balls is difficult and risky—we may lose our cherished assumptions, our theological idols we've clung to for years. This is dangerous business. The conversations we will hear and be a part of are hard ones. And we may fail and fail horribly in a million different ways. But it is in weakness, failure, and suffering that we bear witness to Christ. Our hamster ball is a legal fiction, a Judaizing temptation to take comfort in separation, in oughts and thou shalt nots, cultivating self-righteous judgment and critique—to put boundaries on grace. But that is not our status as followers of Christ. We are free. Free to love. And free to fail.
The evangelical hamster ball ultimately deprives us of the joy and risk of loving, of being loved, and being touched by another. There is no grace to be found in the hamster ball. We have to get out of it to experience the miracle of grace, perhaps even to be it for our suffering neighbor. The contemporary art world is full of artists whom we evangelicals dismiss and dehumanize as charlatans, debasers of art and beauty. Just a cursory glance at the beliefs and behavior of our own evangelical leaders (and re-reading Rom. 3: 10-11) should remind us that we have no moral high ground. What would happen if we saw these artists first and foremost as our neighbors, suffering under the unbearable weight of a graceless art world—one of the most transactional, conditional, and de-humanizing industries in the world? Those who live in this world don't need more law, more judgment, more worldview. They need love and to be shown grace.
What would our theology of art and culture look like if we escaped the legalistic confines of the hamster ball and graciously embraced the messiness of art and culture, standing in front of a painting with them? What would happen if we stopped talking long enough to listen to our new neighbors, exercising the freedom we have in Christ to shut up and just be creatively (and faithfully) present?