Many are waiting with anticipation to hear from Manti Te'o either an explanation or a confession–or perhaps a bit of both. Is he a victim or a perpetrator of a national hoax? Was he drawn into a relationship with a phantom–an avatar playing a role–or did he construct a false relationship in order to further dramatize an already compelling storyline?
This story is constantly on the move–shifting each day. With this ESPN story, it seems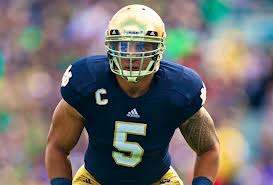 increasingly likely that Te'o was in fact a victim of a hoax. But if he was a victim, he kept the story going after he learned the truth. That's understandable, actually. How embarrassing would it be to admit to a national audience that you were duped into a relationship with a false persona, whom you claimed was the "love of your life"? Further, it would mean sending the feel-good story of the football season down the drain–taking his Heisman hopes with him.
This story illustrates in a jaw-dropping and chin-scratching way the new "digital age" in which we live. It's a world where a constructed, pseuo-relationship such as that between Manti and "Lennay Kekuka" is, while remarkable, actually somewhat conceivable (what is head-scratching, though, is that Te'o never thought to Google her).
(And let's not forget: the Heisman trophy race lends itself to narrative construction. University sports marketers and PR folk look for ways to sell their candidates to the media and to the nation.)
This story is emblematic of the blending of the digital and "real" world which is taking place in new ways all the time–bringing with it new problems and strange situations (and pranksters, thieves, and others capitalizing on this new world). Identities and personal narratives can be constructed, refined, and altered on a whim. Our "selves" are far more fluid, much more fragile, and more open to interpretation than we could ever have imagined before the digital age.