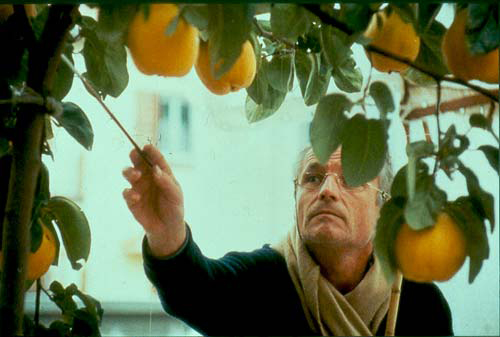 Yesterday my review of a new monograph on the Spanish realist painter Antonio López García, entitled "Jousting the Quince Tree," appeared over at Books & Culture online. Although I was aware of his work, my respect for López García  increased dramatically in the process of studying his paintings. In addition, I stumbled upon a documentary film, El Sol del Membrillo (The Quince Tree Sun), directed by Victor Erice and released in 1992. The film explores López García's meticulous working process and celebrates his love of nature as he embarks upon his annual attempt to paint the autumn sun as it appears through a Quince tree that grows in his backyard.
Although their work could not be more different, both the modernist pioneer Paul Cézanne, whose paintings I've been thinking a lot about lately, and the more staunchly traditional López García paint "sur le motif," that is, they set up their easels in nature, working in their subjects. And both are mesmerized by the world around them and obsessed with capturing their experiences of it.
But perhaps most importantly, both artists are acutely aware of their inability to accomplish their goal of painting nature and recognize that even their most successful paintings embrace failure. Cézanne's admission, "Nature appears to me so complicated," would no doubt be seconded by López García.
Below are two clips from Erice's film, offering a rare insight into one of the most futile but beautiful of human endeavors:
painting a picture.